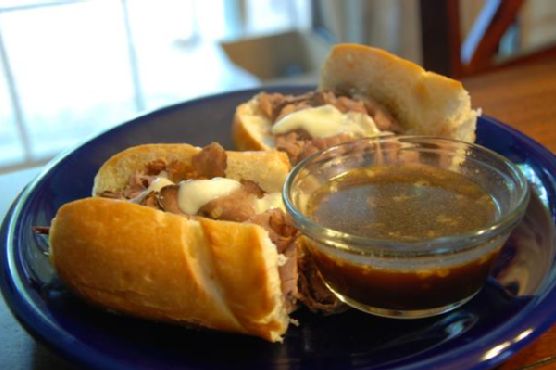 The recipe French Dips With Au Jus could satisfy your Mediterranean craving in approximately 45 minutes. This recipe serves 4 and costs $3.0 per serving. This main course has 314 calories, 29g of protein, and 14g of fat per serving. 1 person has made this recipe and would make it again. Head to the store and pick up provolone cheese, shallot, montreal seasoning, and a few other things to make it today. All things considered, we decided this recipe deserves a spoonacular score of 55%. This score is solid. Try Spicy Crock Pot French Dips, Boozy Slow-Cooker French Dips, and Butter Dips for similar recipes.
French Dips With Au Jus Instructions
Preheat the oven to 350.
In a large deep skillet, heat a splash of olive oil over med-high heat. Add the finely chopped shallott to the pan. Saute for about three minutes, until browned. Next add the cans of beef consomme to the skillet. Sprinkle in a small dash of garlic powder, bring to a boil and then simmer for a few minutes. Reduce the liquid by about a quarter.
On a cutting board or large plate, loosely pile the roast beef. Sprinkle the meat with the beef seasoning.
Slice the sub rolls in half but not all the way through and line with provolone cheese. Put your sub rolls on a baking sheet.
Using tongs, grab some roast beef and dip into the au jus. Toss the beef around to coat, then transfer into the sub roll. Repeat until youve filled your sub rolls or run out of meat. Top with more cheese if you want!
Put the sub rolls in the oven for 10 minutes to heat through, melt the cheese and toast the bread. Cut in half and serve with a small bowl of au jus!
Credit: Foodista.com – The Cooking Encyclopedia Everyone Can Edit