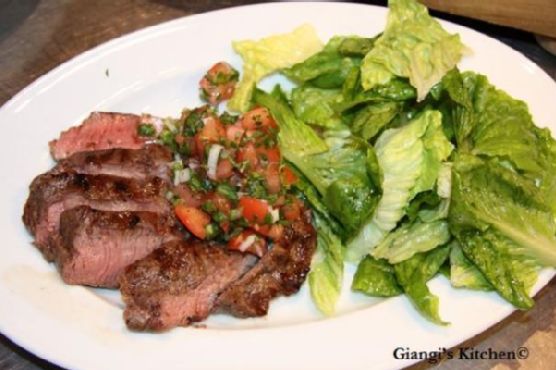 Flank Steak with Herbed Salsa might be just the main course you are searching for. This caveman, gluten free, dairy free, and primal recipe serves 4 and costs $2.69 per serving. One serving contains 301 calories, 25g of protein, and 20g of fat. It can be enjoyed any time, but it is especially good for valentin day. A few people made this recipe, and 11 would say it hit the spot. A mixture of tomatoes, extra virgin olive oil, scallions, and a handful of other ingredients are all it takes to make this recipe so delicious. To use up the juice of lemon you could follow this main course with the Fruit Juice Pops as a dessert. From preparation to the plate, this recipe takes roughly 45 minutes. This recipe is typical of Mexican cuisine. All things considered, we decided this recipe deserves a spoonacular score of 89%. This score is amazing. Similar recipes include Herbed Flank Steak With Tomatoes, Southwest Flank Steak with Salsa, and Flank Steak With Radish Salsa.
Flank Steak with Herbed Salsa Instructions
Preheat a grill pan or light a grill.
In a medium bowl, combine the tomatoes with the scallions, cilantro, Jalapeno, garlic and lemon lime juice. Season the salsa with salt and freshly ground pepper.
Season with salt and pepper the flank steak.
Using a grill pan brush a shadow of oil on the bottom of it. Place the pan over high heat and when hot add the flank steak. Cook until nicely charred outside and medium rare inside. About 3 minutes per side.
Transfer the steak to a carving board and let rest for 5 minutes.
Thinly slice the steak across the grain and serve with the herbed salsa.
Credit: Foodista.com – The Cooking Encyclopedia Everyone Can Edit