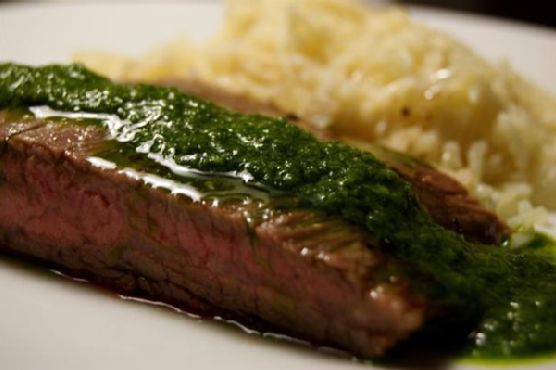 Flank Steak With Chimichurri Sauce might be just the South American recipe you are searching for. One serving contains 485 calories, 37g of protein, and 36g of fat. For $3.64 per serving, this recipe covers 23% of your daily requirements of vitamins and minerals. Only a few people really liked this main course. 1 person has made this recipe and would make it again. Head to the store and pick up extra virgin olive oil, flank steak, parsley, and a few other things to make it today. To use up the extra virgin olive oil you could follow this main course with the Peach Crisp: Healthy Crisp for Breakfast as a dessert. It can be enjoyed any time, but it is especially good for valentin day. From preparation to the plate, this recipe takes around 1 hour and 15 minutes. It is a good option if you're following a caveman, gluten free, dairy free, and primal diet. All things considered, we decided this recipe deserves a spoonacular score of 82%. This score is excellent. Try Flank Steak with Chimichurri Sauce, Flank Steak with Chimichurri Sauce, and Flank Steak with Chimichurri Sauce for similar recipes.
Flank Steak With Chimichurri Sauce Instructions
For the Sauce: Mix parsley, oregano, red pepper flakes (if you are using) and garlic in a food processor or blender and mix until combined. Drizzle in olive oil and red wine vinegar and process until combined.
Season sauce to taste with salt and pepper. Let set for at least 1 hour.
Season steak with salt and pepper. Grill over medium high heat for 5 minutes on each side for medium rare. Let rest for 5 minutes.
Credit: Foodista.com – The Cooking Encyclopedia Everyone Can Edit