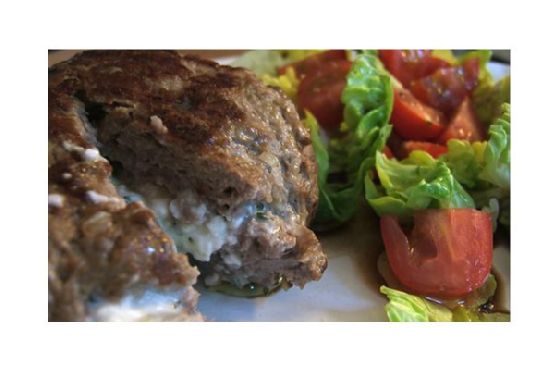 The recipe Feta Stuffed Burgers could satisfy your American craving in around 45 minutes. For $4.52 per serving, this recipe covers 45% of your daily requirements of vitamins and minerals. One serving contains 542 calories, 51g of protein, and 23g of fat. 1 person has tried and liked this recipe. A mixture of feta cheese, hamburger buns, ground beef, and a handful of other ingredients are all it takes to make this recipe so tasty. To use up the pepper you could follow this main course with the Dr. Pepper Cake with Flour Cooked Frosting as a dessert. It works well as a main course. All things considered, we decided this recipe deserves a spoonacular score of 84%. This score is great. Try Feta-Stuffed Turkey Burgers, Biftekia Gemista (feta Stuffed Burgers), and Garden Salad Feta Stuffed Burgers for similar recipes.
Feta Stuffed Burgers Instructions
Season meat with black pepper.
Shape meat into 8 thin patties. Top 4 patties each with 1/4 of the feta cheese. Top those patties with remaining patties; pinch edges together to seal.
Place on grill over medium coals. Grill 7 to 9 minutes on each side or until cooked through (160 degrees). Serve patties in rolls with your favorite toppings - we recommend sliced red onion, fresh spinach, and tomato slices.
Credit: Foodista.com – The Cooking Encyclopedia Everyone Can Edit