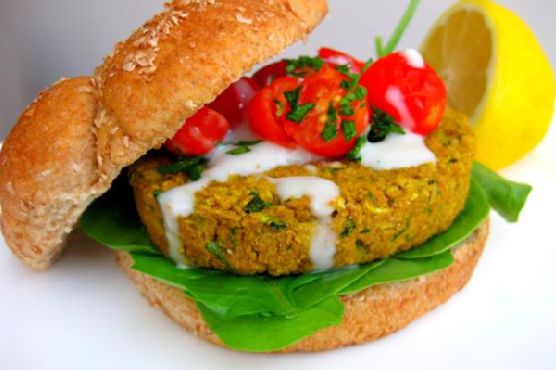 The recipe Falafel Burgers is ready in approximately 45 minutes and is definitely an amazing vegan option for lovers of American food. For $1.9 per serving, this recipe covers 29% of your daily requirements of vitamins and minerals. One serving contains 708 calories, 23g of protein, and 35g of fat. This recipe is liked by 69 foodies and cooks. It works well as a main course. Head to the store and pick up tahini, chili powder, coriander, and a few other things to make it today. To use up the flour you could follow this main course with the Apple Tart with Caramel Sauce as a dessert. All things considered, we decided this recipe deserves a spoonacular score of 94%. This score is spectacular. Try Falafel Burgers, Falafel Burgers, and Falafel burgers for similar recipes.
Falafel Burgers Instructions
Combine the chickpeas, onion, garlic, parsley, flour, spices, and salt, and pulse until the mixture is well combined. Form the mixture into 4 large patties.
Heat the oil in a large, nonstick skillet set over medium-high heat. Cook for about 3 minutes per side.
Make the tahini sauce: Whisk the tahini paste with the water, lemon juice and zest, salt, and freshly ground black pepper in a mixing bowl.
Serve the burgers in pita pockets or on a bun. Top them with tahini sauce, lettuce, and tomato.
Credit: Foodista.com – The Cooking Encyclopedia Everyone Can Edit