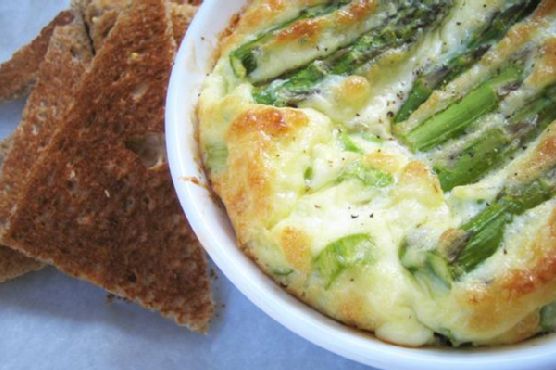 Egg Souffle With Bacon and Asparagus might be just the main course you are searching for. One serving contains 695 calories, 27g of protein, and 61g of fat. This gluten free and primal recipe serves 2 and costs $2.43 per serving. Only a few people made this recipe, and 1 would say it hit the spot. From preparation to the plate, this recipe takes approximately 1 hour. Head to the store and pick up parmesan cheese, eggs, heavy cream, and a few other things to make it today. To use up the salt you could follow this main course with the Apple Turnovers Recipe as a dessert. All things considered, we decided this recipe deserves a spoonacular score of 52%. This score is pretty good. Try Bacon Pepper Asparagus Souffle Cups, Bacon and Egg Mac and Cheese, and California Breakfast Wrap (Avocado, Egg, Bacon & More!) for similar recipes.
Egg Souffle With Bacon and Asparagus Instructions
Preheat oven to 350 degrees. Lightly grease a 16-ounce ramekin or two 8-ounce ramekins.
In a nonstick frying pan, cook bacon over medium-high heat until crispy. Place bacon strips on a paper towel-lined plate to drain. When bacon is cooled, cut into bite-sized pieces and set aside.
Drain all but 2 teaspoons of bacon fat from pan. Add minced onion and sweat for 3 to 4 minutes, until onions are almost translucent. Add asparagus and cook for about a minute more. Remove pan from heat.
In a small bowl, whisk together eggs, heavy cream, Parmesan, salt and pepper, until ingredients are incorporated. Stir in onions and asparagus.
Line bottom of ramekin(s) with bacon pieces. Pour egg mixture over bacon. Arrange reserved asparagus tips on top of the egg mixture and place ramekin on a parchment-lined baking sheet. Bake in oven for 35 to 40 minutes, until center slightly jiggles and top of souffl is somewhat browned. Serve immediately, before it falls!
Credit: Foodista.com – The Cooking Encyclopedia Everyone Can Edit