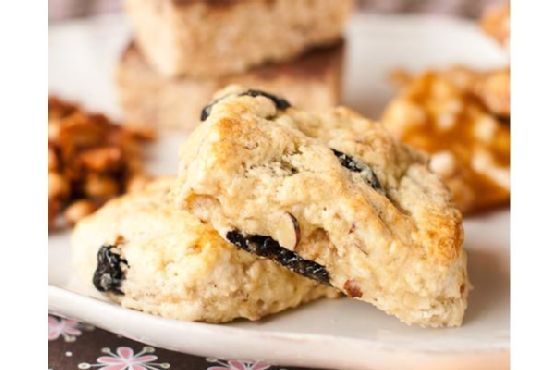 Need a vegetarian morn meal? Dried Cherry-Almond Scones could be an outstanding recipe to try. One serving contains 216 calories, 5g of protein, and 7g of fat. For 50 cents per serving, this recipe covers 7% of your daily requirements of vitamins and minerals. 2 people have tried and liked this recipe. If you have cherries, almonds, buttermik, and a few other ingredients on hand, you can make it. This recipe is typical of Scottish cuisine. From preparation to the plate, this recipe takes approximately 45 minutes. All things considered, we decided this recipe deserves a spoonacular score of 29%. This score is not so outstanding. Try Dried Cherry Almond Scones, Dried Cherry Scones, and Dried Cherry-Lemon Scones for similar recipes.
Dried Cherry-Almond Scones Instructions
Preheat oven to 400 degree F. Stir together flour, 1/4 cup sugar, and next 3 ingredients in a large bowl; cut int butter with a pastry blender or fork until crumbly. Stir in cherries and almonds.
Whisk together buttermilk, 1 egg, and almond extract; add to flour mixture, stirring with a fork just until dry ingredients are moistened and mixture forms a shaggy dough.
Use floured hands to pat dough into a 1/2-inch thick, 10-x7-inch rectangle on a lightly floured surface; cut into 16 rectangles. Place scone dough on a parchment paper-lined baking sheet. Whisk together remaining egg and 1 teaspoon water. Brush scones with egg wash; sprinkle with remaining 1/4 cup sugar.
Bake in preheated oven for 12 to 15 minutes or until golden.
Credit: Foodista.com – The Cooking Encyclopedia Everyone Can Edit