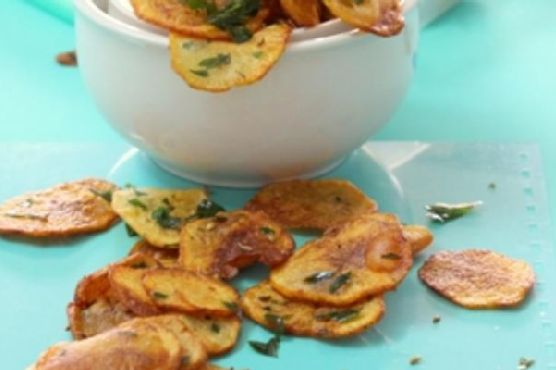 Curry Leaves Potato Chips could be just the gluten free, dairy free, lacto ovo vegetarian, and fodmap friendly recipe you've been looking for. This recipe serves 3 and costs 52 cents per serving. One serving contains 157 calories, 4g of protein, and 1g of fat. This recipe from Foodista requires potatoes - remove skin, oil, curry leaves, and salt. Not a lot of people made this recipe, and 4 would say it hit the spot. From preparation to the plate, this recipe takes approximately approximately 45 minutes. This recipe is typical of Indian cuisine. With a spoonacular score of 92%, this dish is amazing. If you like this recipe, you might also like recipes such as Chicken Stir Fry with Potato, Cashews, and Curry Leaves, Yam Leaves, Stir-Fried Sweet Potato Leaves, and curry leaves chutney , how to make curry leaves chutney.
Curry Leaves Potato Chips Instructions
Wipe/pat dry potatoes. Mix in chili powder and salt. Heat oil and fry in batches till crunchy and crispy. Remove and keep aside. In the same oil, fry curry leaves till crispy too. Scoop out and add over chips. Crush and toss the leaves with the chips.
Credit: Foodista.com – The Cooking Encyclopedia Everyone Can Edit