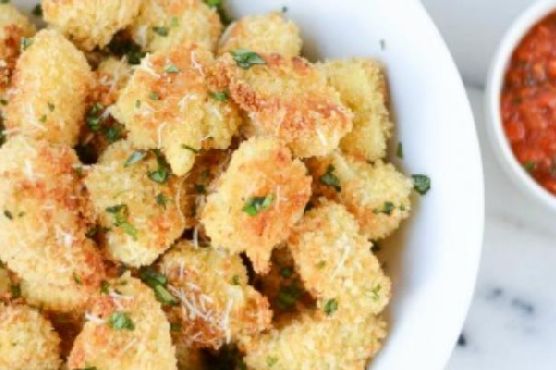 Crispy Italian Cauliflower Poppers Appetizer might be just the hor d'oeuvre you are searching for. One serving contains 472 calories, 21g of protein, and 17g of fat. For $2.01 per serving, this recipe covers 29% of your daily requirements of vitamins and minerals. If you have canned tomatoes, flour, olive oil, and a few other ingredients on hand, you can make it. 84 people have tried and liked this recipe. This recipe is typical of Mediterranean cuisine. From preparation to the plate, this recipe takes roughly 45 minutes. All things considered, we decided this recipe deserves a spoonacular score of 92%. This score is spectacular. Try Crispy Baked Cauliflower Poppers, Crispy Shrimp Poppers, and Cauliflower Poppers for similar recipes.
Crispy Italian Cauliflower Poppers Appetizer Instructions
Preheat oven to 400 f. Brush a large baking sheet with a tablespoon of the olive oil. In a large, shallow dish combine the breadcrumbs, Parmesan, garlic powder, salt, pepper and 2 tablespoons of the olive oil. Toss well with a fork until the oil is completely dispersed into the bread crumbs. Combine the eggs with 1 tablespoon of water in a medium bowl. Place the flour in a large resealable bag.
Add half of the cauliflower florets to the bag with the flour, seal and shake to coat well. Remove the cauliflower to a fine mesh strainer and shake to remove excess flour. Place the floured cauliflower on a plate. Repeat with the remaining cauliflower.
Working with a few pieces at a time. Add to the beaten egg. Using a fork, turn and toss the florets in the egg to completely coat. Transfer to the breadcrumb mixture and coat, pressing the crumbs into the florets, the help them adhere. Place on the oiled baking sheet, making sure you leave a little space between each florets so they crisp up really well. Repeat this step with the rest of the cauliflower. Spray the tops of the breaded florets lightly with cooking spray. Bake the cauliflower for 20 minutes, Flip the pieces over and continue baking for about 15 more minutes, until the cauliflower is crunchy on the outside and tender on the inside.
While the cauliflower is baking, prepare the marinara. Pulse the undrained tomatoes in a food processor a few times until mostly broken down. Heat 1 tablespoon of the oil with the garlic and pepper flakes in a medium saucepan over medium heat until just sizzling. Add the tomatoes and simmer for about 10 minutes until the marinara thickens slightly and the flavors develop. Add 2 tablespoons of the fresh basil, season with salt and pepper if needed.
When the cauliflower is done baking, transfer to a serving dish and sprinkle with the remaining basil. Serve with the marinara.
Credit: Foodista.com – The Cooking Encyclopedia Everyone Can Edit