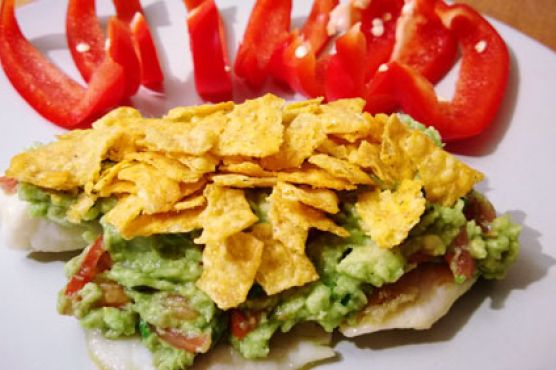 Crispy-Crowned Guacamole Fish Fillets might be just the main course you are searching for. Watching your figure? This gluten free, dairy free, and pescatarian recipe has 1003 calories, 76g of protein, and 57g of fat per serving. For $9.52 per serving, this recipe covers 65% of your daily requirements of vitamins and minerals. If you have tilapia fish fillets, onion, cherry tomatoes, and a few other ingredients on hand, you can make it. To use up the pepper you could follow this main course with the Dr. Pepper Cake with Flour Cooked Frosting as a dessert. This recipe is typical of Mexican cuisine. From preparation to the plate, this recipe takes roughly 30 minutes. Try Crispy Fish Fillets, Susan's Crispy Fish Fillets, and Crispy Baked Fish Fillets for similar recipes.
Crispy-Crowned Guacamole Fish Fillets Instructions
Prepare the guacamole by dicing the onion, cutting the tomatoes, and crushing the garlic. Mix these ingredients with the ripe avocado and spice with salt, pepper, cilantro, and tabasco.
Fry the fish for 5 minutes.
Crush the tortilla chips with your hands.
Cut the bell peppers in strips.
Place the fish on a plate, use a fork to distribute the guacamole on the fish and crown the fish with the crispy crushed tortilla chips.
Credit: dsky