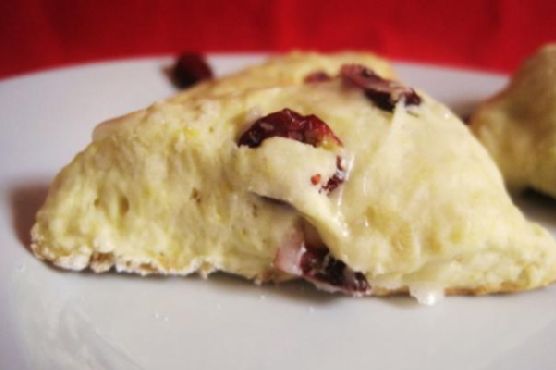 Need a lacto ovo vegetarian breakfast? Cranberry Orange Scones could be a super recipe to try. This recipe serves 24. One portion of this dish contains about 2g of protein, 2g of fat, and a total of 79 calories. For 11 cents per serving, this recipe covers 3% of your daily requirements of vitamins and minerals. 1 person were impressed by this recipe. Head to the store and pick up flour, salt, non fat milk, and a few other things to make it today. From preparation to the plate, this recipe takes about about 45 minutes. It is a cheap recipe for fans of European food. It is brought to you by Foodista. Taking all factors into account, this recipe earns a spoonacular score of 6%, which is very bad (but still fixable). If you like this recipe, take a look at these similar recipes: Orange Cranberry Scones, Cranberry-Orange Scones, and Cranberry Orange Scones.
Cranberry Orange Scones Instructions
Preheat oven to 375. Combine flour, baking soda, baking powder, salt and sugar in a bowl. Cut in butter with pastry blender or 2 knives until mixture resembles coarse meal (I used my hands). Stir in cranberries and rind. Add milk, orange juice and egg stirring just until moist. Turn dough out onto a lightly floured surface, and knead 15 times or until smooth. Form into an 8 x8x square. Cut 4 even rows into the dough. Cut into triangles. I got 6 scones per row. (sorry no picture, my hands were to sticky to pull out my camera) Carefully Transfer dough to a baking sheet coated with cooking spray or lined with parchment paper Bake at 375 for 10-12 minutes or until golden. Let them slightly cool for about 5 minutes. Meanwhile make your glaze. In a small bowl add your powdered sugar and orange juice (I juiced a 1/4 of an orange) mix until a consistency you like. Add more sugar if to thin, add more juice if to thick. Drizzle over the top of scones. Eat and Enjoy!
Credit: Foodista.com – The Cooking Encyclopedia Everyone Can Edit