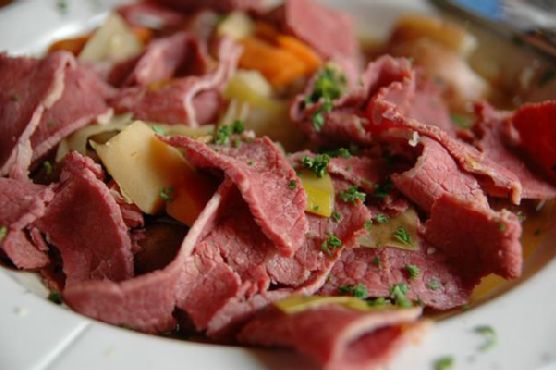 The recipe Corned Beef And Cabbage With Irish Mustard Sauce could satisfy your European craving in around 4 hours and 30 minutes. This main course has 829 calories, 51g of protein, and 49g of fat per serving. For $5.04 per serving, this recipe covers 46% of your daily requirements of vitamins and minerals. It can be enjoyed any time, but it is especially good for st. patrick day. If you have carrot, onions, cornstarch, and a few other ingredients on hand, you can make it. To use up the cornstarch you could follow this main course with the Chocolate Cornstarch Pudding as a dessert. A couple people made this recipe, and 27 would say it hit the spot. It is a good option if you're following a gluten free diet. All things considered, we decided this recipe deserves a spoonacular score of 89%. This score is super. Try Irish Channel Corned Beef and Cabbage, Sheila's Famous Mustard-Glazed Corned Beef and Cabbage, and Irish Bacon and Cabbage with Mustard Sauce for similar recipes.
Corned Beef And Cabbage With Irish Mustard Sauce Instructions
Combine corned beef and water to cover in a large Dutch oven; bring to a boil then remove from heat. Drain. Add fresh water to cover. Add onion, carrot, parsley, bay leaf, and pepper. Bring to a boil once again, then reduce to a low simmer. Skim off foam, if necessary. Cover and simmer 4 hours or until tender.
Remove onion and parsley. Add potatoes to Dutch oven. Simmer 10 minutes. Add cabbage wedges, and simmer 20 minutes or until vegetables are tender. Remove and discard bay leaf.
To make the Irish Mustard Sauce, combine cornstarch, sugar, dry mustard and salt in a medium saucepan; stir well. Add water and cook over low heat, stirring constantly, until thickened. Remove from heat. Stir in vinegar, butter and horseradish. Gradually stir about 1/4 of hot mixture into yolks; add to remaining hot mixture, stirring constantly. Cook over low heat, stirring constantly, until thickened.
Transfer corned beef and vegetables to a serving platter. Serve with Irish Mustard Sauce.
Credit: Foodista.com – The Cooking Encyclopedia Everyone Can Edit