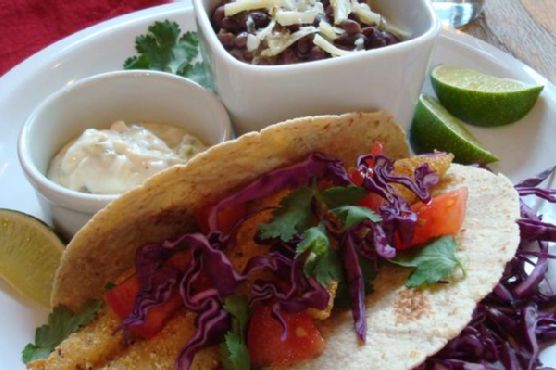 You can never have too many main course recipes, so give Corn-Crusted Fish Tacos With Jalapeno-Lime Sauce and Spicy Black Beans a try. This recipe makes 4 servings with 1112 calories, 57g of protein, and 54g of fat each. For $4.9 per serving, this recipe covers 50% of your daily requirements of vitamins and minerals. 11 person have made this recipe and would make it again. It is a good option if you're following a gluten free and pescatarian diet. A mixture of mayo, tomatoes, cilantro, and a handful of other ingredients are all it takes to make this recipe so flavorful. To use up the olive oil you could follow this main course with the Sauteed Banana, Granolan and Yogurt Parfait as a dessert. This recipe is typical of Mexican cuisine. From preparation to the plate, this recipe takes around 45 minutes. All things considered, we decided this recipe deserves a spoonacular score of 94%. This score is super. Similar recipes include Corn-Crusted Fish Tacos with Jalapeno-Lime Sauce and Spicy Black Beans, Corn-crusted Fish Tacos With Jalapeno-lime Sauce And Spicy Blac, and Fish Tacos with Jalapeno Lime Sauce.
Corn-Crusted Fish Tacos With Jalapeno-Lime Sauce and Spicy Black Beans Instructions
Mix the mayo, lime juice and chopped jalapeno in a small bowl. Salt and pepper to taste, then put in the fridge.
Chop all veggies and set aside.
Add 1 tablespoon of oil to a small pan over medium-high heat. Add the green onions and allow them to saute for 1-2 minutes. Pour both cans of drained beans into the pan. Bring to a simmer and add the cumin, cayenne and tsp. of salt. Squeeze a couple of lime wedges into the beans. Cook for 5 minutes longer. Cover and set aside. Top the beans with cheese when you are ready to serve them.
Heat a large skillet to high heat. Cut the fish into 1 x 3 inch strips. Drizzle oil on the fish, then salt and pepper both sides.
Pour the cornmeal into a pie pan. Roll the fish strips in cornmeal, shaking off the excess.
Add 2 tablespoons of oil to pan. When it is hot, cook half the fish strips 1-2 minutes per side, until opaque and flaky. The cooking time will depend on the thickness of the fish. Remove the fish from the pan and place on a paper towel-lined plate. Repeat.
Warm the tortillas in the microwave. Divide the fish between 8 tortillas. (You can double up the tortillas so they wont break!) Then top each with cabbage, tomatoes, cilantro and jalapeno-lime sauce. Serve with lime wedges and hot sauce, black beans on the side.
Credit: Foodista.com – The Cooking Encyclopedia Everyone Can Edit