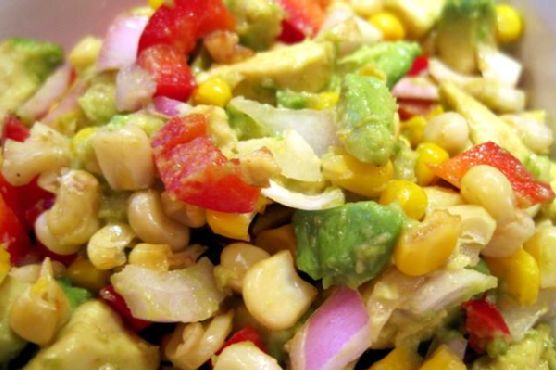 The recipe Corn Avocado Salsa could satisfy your Mexican craving in around 25 minutes. For $1.31 per serving, this recipe covers 15% of your daily requirements of vitamins and minerals. One serving contains 239 calories, 5g of protein, and 16g of fat. Head to the store and pick up corn, bell pepper, cumin, and a few other things to make it today. A couple people really liked this hor d'oeuvre. It is a good option if you're following a gluten free and vegan diet. This recipe is liked by 44 foodies and cooks. All things considered, we decided this recipe deserves a spoonacular score of 98%. This score is spectacular. Try Avocado Corn Salsa, Corn and Avocado Salsa, and Corn and Avocado Salsa for similar recipes.
Corn Avocado Salsa Instructions
Preheat oven to 375 degrees.
Spread corn flat on a baking sheet.
Spray lightly with olive oil spray.
Roast corn in the oven for about 8-10 minutes. (Be careful not to brown too much or burn.)
Remove from heat and allow to cool.
Finely chop red pepper and garlic and mix in a bowl.
Peel and coarsely chop avocado and add to bowl.
Add cooled corn.
Mix in cumin and vinegar and blend well.
Credit: Foodista.com – The Cooking Encyclopedia Everyone Can Edit