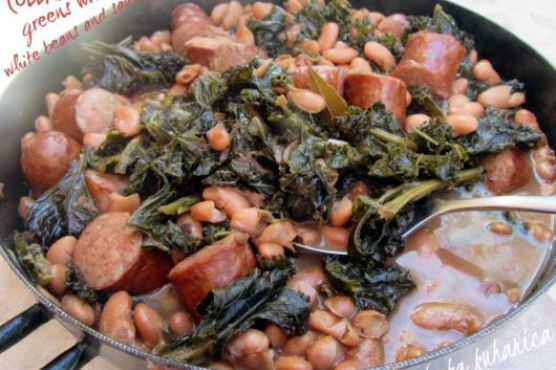 If you have approximately 1 hour and 45 minutes to spend in the kitchen, Collard greens with white beans and sausage might be an outstanding gluten free recipe to try. One serving contains 701 calories, 36g of protein, and 31g of fat. For $1.96 per serving, you get a side dish that serves 4. It is brought to you by Foodista. 1 person has made this recipe and would make it again. Not a lot of people really liked this Southern dish. If you have lime zest, onions, collard greens, and a few other ingredients on hand, you can make it. With a spoonacular score of 74%, this dish is pretty good. Stewed Collard Greens And White Beans, Collard Greens And White Beans Quesadilla, and Collard Greens and Beans are very similar to this recipe.
Collard greens with white beans and sausage Instructions
Soak your beans over night.
The next day, slice 1 onion in half and slice the other onion.
Place beans, onion halves, carrot, thyme and rosemary sprig and bay leaf in a large pot; cover the beans with 1500 ml of water.
Crumble in the vegetable cube, cover and bring to a boil.
Reduce the flame; simmer about 30 minutes over low heat until the beans are nearly tender.
Drain the beans and reserve the cooking liquid. Discard all of the other solids. Set aside.
Saute sliced onion and garlic in butter and olive oil for 6 minutes over moderately high heat, stirring occasionally.
Add the collards (stems cut and leaves torn into small pieces) and cook, tossing, until slightly wilted.
Add half of the reserved bean cooking liquid, cover and cook over low heat, stirring occasionally, until the collards are tender, about 50 minutes.
Add the beans, sausage and the remaining bean cooking liquid to the pot and cook for 15 minutes.
Just before serving, stir in the lime zest and juice. Season with pepper.
Credit: Foodista.com – The Cooking Encyclopedia Everyone Can Edit