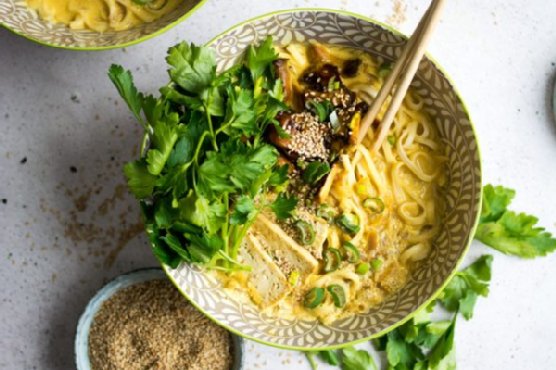 Coconut Curry Ramen Noodles might be a good recipe to expand your main course collection. This recipe makes 4 servings with 580 calories, 15g of protein, and 30g of fat each. For $4.85 per serving, this recipe covers 23% of your daily requirements of vitamins and minerals. This recipe from Foodista has 1 fans. If you have onion, chili sauce, curry powder, and a few other ingredients on hand, you can make it. It is a good option if you're following a dairy free, lacto ovo vegetarian, and vegan diet. Only a few people really liked this Japanese dish. From preparation to the plate, this recipe takes roughly 1 hour and 40 minutes. Overall, this recipe earns a solid spoonacular score of 56%. Green Coconut Curry Ramen, Red Coconut Curry Noodles, and Shrimp and Coconut Curry with Rice Noodles are very similar to this recipe.
Coconut Curry Ramen Noodles Instructions
Chop the mushrooms in half and place into a large bowl with all the ingredients for the marinade. Stir so everything is coated, then cover and place in the fridge for 1 hour, or up to overnight. Remove from the fridge once marinated and set aside as you prepare the rest of the curry.
Finely dice the red onion and heat 1 tbsp oil in the bottom of a large stockpot. Fry the onion for 2-3 minutes on a medium/high heat until it starts to soften. Then add the curry paste and stir to coat the onion. Fry for another minute to release some of the flavour.
Add the vegetable stock and coconut milk to the pan and bring everything to a gentle simmer.
Drain the mushrooms from the marinade, and grill them on a griddle pan on a medium/high heat until they are cooked through. Slice the tofu into slices and grill this too until the outside is crispy.
Cook the noodles (variety of your choice, I used rice noodles) and place in the bottom of your serving bowls. Divide the soup between four then top with some mushrooms and tofu. Add a sprinkle of sesame seeds, some fresh coriander and some sliced spring onions.
Credit: Foodista.com – The Cooking Encyclopedia Everyone Can Edit