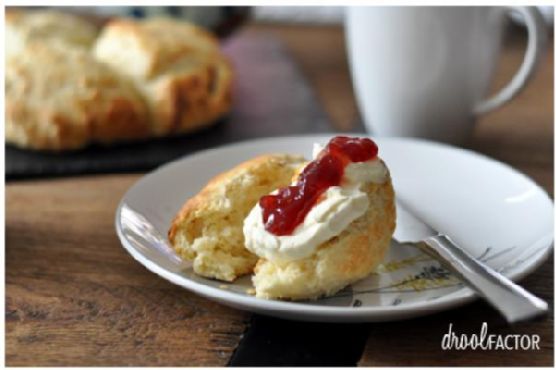 The recipe Classic scones could satisfy your Scottish craving in approximately 45 minutes. For 51 cents per serving, this recipe covers 7% of your daily requirements of vitamins and minerals. Watching your figure? This vegetarian recipe has 399 calories, 9g of protein, and 13g of fat per serving. Plenty of people made this recipe, and 358 would say it hit the spot. A mixture of milk, butter, strawberry jam and cream, and a handful of other ingredients are all it takes to make this recipe so tasty. It works well as a very affordable morn meal. All things considered, we decided this recipe deserves a spoonacular score of 43%. This score is good. Try Classic Scones, Classic Scones, and Classic Cream Scones for similar recipes.
Classic scones Instructions
Using fingertips, rub butter into flour until mixture resembles fine breadcrumbs.
Make a well in the centre of the dry ingredients and add milk, stirring with a metal spatula or butter knife until mixture comes away from the sides of the bowl. If mixture is dry, add a little extra milk.
Turn mixture onto a lightly floured bench and bring the dough together until a rough ball of dough is formed. Do not over-knead. Pat dough to 2 cm thickness. With a clean knife, quarter the dough or use a round cutter to cut rounds.
Arrange scones onto a baking paper lined tray and bake at 220C for 12-15 minutes until golden and they sound hollow when lightly tapped on the base.
Serve scones straight from the oven with jam and cream.
Credit: Foodista.com – The Cooking Encyclopedia Everyone Can Edit