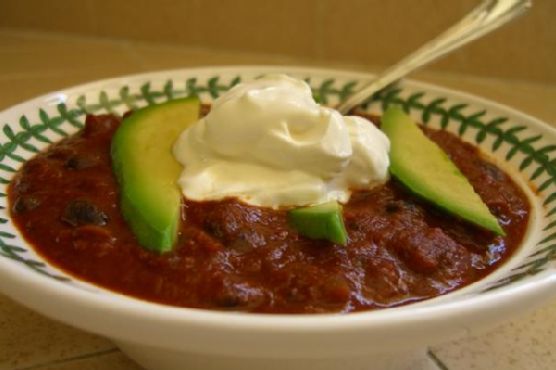 Chunky Two-Bean Chili might be just the main course you are searching for. For $2.19 per serving, this recipe covers 39% of your daily requirements of vitamins and minerals. Watching your figure? This vegetarian recipe has 658 calories, 23g of protein, and 28g of fat per serving. This recipe is typical of American cuisine. This recipe is liked by 1 foodies and cooks. From preparation to the plate, this recipe takes about 45 minutes. It will be a hit at your The Super Bowl event. Head to the store and pick up monterey jack cheese, garnishes, garlic cloves, and a few other things to make it today. To use up the olive oil you could follow this main course with the Sauteed Banana, Granolan and Yogurt Parfait as a dessert. All things considered, we decided this recipe deserves a spoonacular score of 89%. This score is outstanding. Try Chunky No Bean Chili, Chunky No Bean Chili, and Chunky Two-Bean and Beef Chili for similar recipes.
Chunky Two-Bean Chili Instructions
Rinse and drain black beans and discard any rocks or funky-looking (discolored, wrinkly) beans.
In heavy soup pot, combine black beans, 6 cups of water, salt and bay leaf.
Bring to a boil.
Reduce heat and simmer, partially covered, until beans are tender, about 1 hours.
Keep an eye on the water, and add more if needed, 1 cup at a time. Beans should have some liquid remaining, but they should not be overly soupy.
When beans are almost done, prepare the vegetables.
In large saucepan, heat the olive oil and saut the shallot, garlic, red pepper, and tomatillos until tender, 10-15 minutes.
When beans are completely tender, remove the bay leaf, and add the sauted vegetables and any remaining oil, the salt, pepper, spices, kidney beans, crushed tomatoes, and chocolate chips.
Bring chili to a boil.
Reduce heat and simmer, uncovered, until chili thickens and flavors meld, about 30 minutes.
Stir occasionally.
Remove pot from heat and let chili cool for about 20 minutes before pureeing two cups in blender. If you try to puree hot liquid in a blender, the people who move into your house after you will inherit the splatter, and they will curse you.
Return pureed chili to pot and mix through.
Taste, and add salt and pepper if needed.
Heat through until warm, about 5 minutes.
Ladle into bowls and heap on whichever garnishes speak to you.
Credit: Foodista.com – The Cooking Encyclopedia Everyone Can Edit