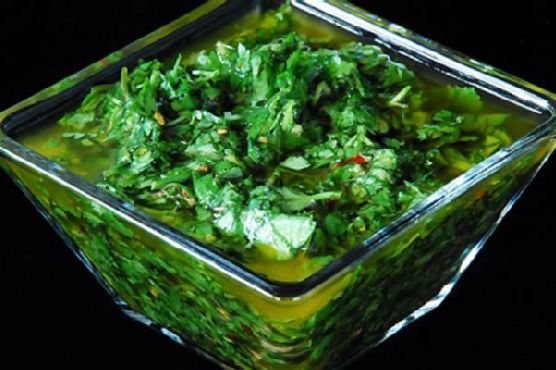 The recipe Chimichurri is ready in around 45 minutes and is definitely a spectacular caveman, gluten free, primal, and whole 30 option for lovers of South American food. This recipe makes 4 servings with 70 calories, 0g of protein, and 7g of fat each. For 55 cents per serving, this recipe covers 3% of your daily requirements of vitamins and minerals. Only a few people made this recipe, and 1 would say it hit the spot. A mixture of wine vinegar, ground pepper, garlic cloves, and a handful of other ingredients are all it takes to make this recipe so delicious. It works well as a sauce. All things considered, we decided this recipe deserves a spoonacular score of 12%. This score is rather bad. Try Bistec Argentino al Chimichurri (Steak with Chimichurri Sauce), The Best Chimichurri : a Chimichurri Marinade & Steak Sauce, and Steak with Chimichurri Sauce (Carne con Chimichurri) for similar recipes.
Chimichurri Instructions
Put the parsley, cilantro and garlic into a medium mixing bowl and toss to combine. Add the vinegar, salt, red and black pepper and stir. Pour in the olive oil and mix well to combine. Allow the mixture to sit for 30 minutes to allow the flavors to blend. This sauce is not only great on steak but I think it would also be wonderful on pork and chicken as well.
Credit: Foodista.com – The Cooking Encyclopedia Everyone Can Edit