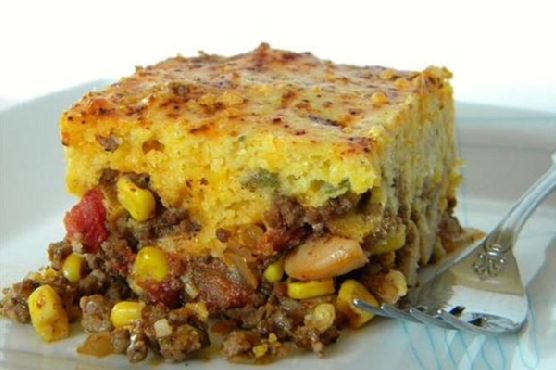 Chili Pie with Green Chile and Cheddar Cornbread Crust might be just the Southern recipe you are searching for. For $2.41 per serving, this recipe covers 28% of your daily requirements of vitamins and minerals. One serving contains 702 calories, 36g of protein, and 40g of fat. From preparation to the plate, this recipe takes about 1 hour. It is perfect for The Super Bowl. This recipe from Foodista has 15 fans. A mixture of paprika, chile powder, kosher salt and pepper, and a handful of other ingredients are all it takes to make this recipe so scrumptious. All things considered, we decided this recipe deserves a spoonacular score of 73%. This score is pretty good. Try Green Chile Cornbread, Green Chile Cornbread, and Cheddar Chili Cornbread Pie for similar recipes.
Chili Pie with Green Chile and Cheddar Cornbread Crust Instructions
In a large skillet saute onion in oil until soft and translucent, seasoning with salt and pepper. Add garlic and saute until fragrant. Remove 2/3 of the mixture from pan and set aside. Add green chilies with their juices and saute for 2-3 minutes. Remove and set aside in a separate bowl.
In the same skillet brown ground beef, crumbling it as it cooks. When cooked through carefully drain grease. Add the onion mixture, chili powder, Worcestershire, oregano, paprika, cinnamon, nutmeg, and water. Mix thoroughly and continue cooking over medium-low heat as you add the tomatoes with juices, the beans and corn. Mix well and cook for 3-4 minutes.
Preheat oven to 400 degrees and grease a 9x13 inch casserole dish. Pour the meat mixture in and spread evenly over bottom. Sprinkle two cups of the cheese over top.
In a large bowl combine the flour, cornmeal, baking powder and salt.
In a separate medium bowl whisk the eggs, milk, butter and sour cream. Add this mixture to the dry mix and stir together.
Add the onion/green chile mixture and the remaining cup of cheese. Stir in. Pour over top of the meat mixture. Spread evenly. Sprinkle Chile powder over top.
Bake 25-30 minutes or until a toothpick comes clean from center of cornbread. Let set for 10 minutes before serving.
Credit: Foodista.com – The Cooking Encyclopedia Everyone Can Edit