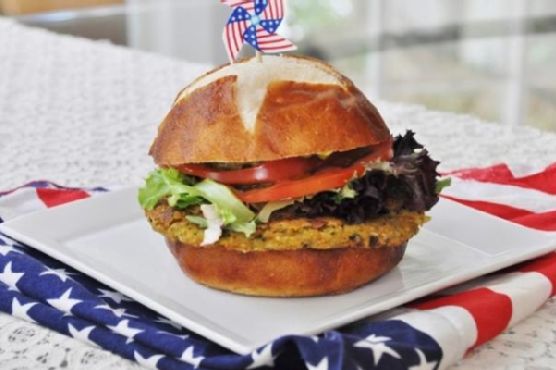 Chickpean and Veggie Burgers might be just the American recipe you are searching for. For 92 cents per serving, this recipe covers 14% of your daily requirements of vitamins and minerals. Watching your figure? This vegan recipe has 249 calories, 10g of protein, and 7g of fat per serving. This recipe from Foodista has 1 fans. Head to the store and pick up vegetable oil, spinach, nutritional yeast, and a few other things to make it today. From preparation to the plate, this recipe takes approximately 30 minutes. All things considered, we decided this recipe deserves a spoonacular score of 64%. This score is solid. Try Chickpea Veggie Burgers, Lemon Tahini Chickpea Veggie Burgers, and Chickpea-Brown Rice Veggie Burgers for similar recipes.
Chickpea and Veggie Burgers Instructions
Add all of the ingredients, EXCEPT the onions and the oil, to a food processor and blend until the mixture is firm and moldable. Transfer to a medium size bowl and stir in the onions.
Measure out 1/3 of a cup of the mixture and roll into a ball, then flatten into a round patty.
Heat 1 tablespoon of oil on medium-high heat in a large skillet. Add patties to the pan and cook until golden brown and then flip and cook the other side until golden brown.
Add the other tablespoon of oil if needed.
Credit: Foodista.com – The Cooking Encyclopedia Everyone Can Edit