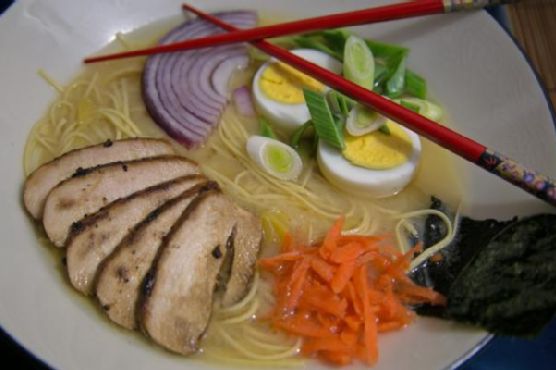 The recipe Chicken and Miso Ramen Noodle Soup is ready in approximately 30 minutes and is definitely an awesome dairy free option for lovers of Japanese food. One serving contains 616 calories, 43g of protein, and 14g of fat. For $3.46 per serving, this recipe covers 34% of your daily requirements of vitamins and minerals. Not a lot of people made this recipe, and 1 would say it hit the spot. It works well as a rather expensive main course for Autumn. If you have chicken breast, ginger root, spring onion, and a few other ingredients on hand, you can make it. To use up the sesame seeds you could follow this main course with the Sesame Banana Bread as a dessert. All things considered, we decided this recipe deserves a spoonacular score of 76%. This score is pretty good. Try Ramen Chicken Noodle Soup, Cooking School: Miso Ramen with Miso Glazed Chicken, Enoki and Shimeji Mushrooms, and Thai Peanut Chicken and Ramen Noodle Soup for similar recipes.
Chicken and Miso Ramen Noodle Soup Instructions
Hard boil the eggs for about 12 minutes then cool in ice water. Then reserve at room temperature.
Grill or saute the chicken for about 8 minutes each side or until internal temperature is 155-160*F. Then reserve in a warming oven with the bowls.
Wash, dry and cut the vegetables to size while the cooking is going on.
Soup: Pour the chicken stock into a suitable pot.
Add the miso and sliced ginger and stir to mix while bringing to a simmer.
Simmer for 10 minutes, stirring occasionally.
Place the fresh angel hair pasta noodles in the bottom of the bowls uncooked; then while the soup is still hot, pour it over the noodles to a depth that just covers them.
Arrange the chicken and vegetables carefully on top of the noodles or beside the noodles so that everything is level with the top of the soup and the arrangement is attractive.
Carefully slide the nori into the edge of the soup only partially submerging it.
Sprinkle the sesame seeds on top if desired and serve with soy or tamari sauce.
Credit: Foodista.com – The Cooking Encyclopedia Everyone Can Edit