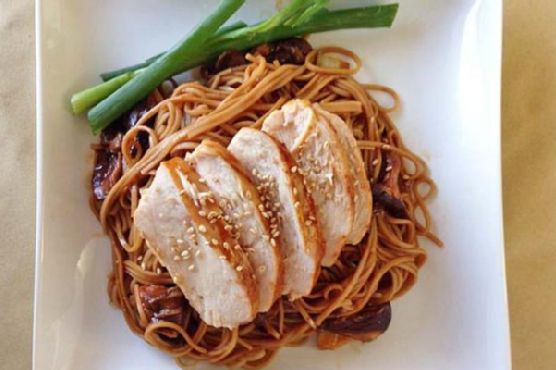 Chicken Teriyaki with Soba Noodles might be just the main course you are searching for. This recipe serves 2 and costs $7.22 per serving. One serving contains 693 calories, 44g of protein, and 16g of fat. From preparation to the plate, this recipe takes approximately 45 minutes. Head to the store and pick up soy sauce, cornstarch, shiitake mushrooms, and a few other things to make it today. Not a lot of people made this recipe, and 1 would say it hit the spot. This recipe is typical of Japanese cuisine. It is a good option if you're following a dairy free diet. All things considered, we decided this recipe deserves a spoonacular score of 75%. This score is solid. Try Wildwood SprouTofu Teriyaki Stir-Fry over Soba Noodles, Teriyaki Soba Noodles with Tofu and Stir-fried Spinach, and Cold Soba Noodles With Tsuyu Dipping Sauce (zaru Soba) for similar recipes.
Chicken Teriyaki with Soba Noodles Instructions
1. Preheat oven to 400 degrees Fahrenheit. Slice shiitakes into bite sized pieces. Place chicken breasts in a 9 by 13 glass dish.
2. Make sauce: In a small bowel, add all the ingredients and whisk together.
3. Pour sauce over chicken breasts. Place in oven and cook for 20 min. Take out of oven and add shiitakes. Toss shiitakes with the sauce that is around the chicken, flip chicken. Place in oven for 10 minutes more. Once done,take out of oven.Let rest 5 minutes before slicing chicken into bite sized pieces.
4. Meanwhile, add water to a medium pot. Once brought to a boil, add soba noodles and cook for 7 minutes till done. Drain and rinse under cold water and add back to pot. Add shitakes and all of sauce to the soba noodles. Toss together.
5. Add 1/2 the soba noodles and shitakes to each plate. Add 1 sliced chicken breast to each plate. Garnish with green onion and sesame seeds. Serve immediately.
ENJOY!
Credit: Foodista.com – The Cooking Encyclopedia Everyone Can Edit