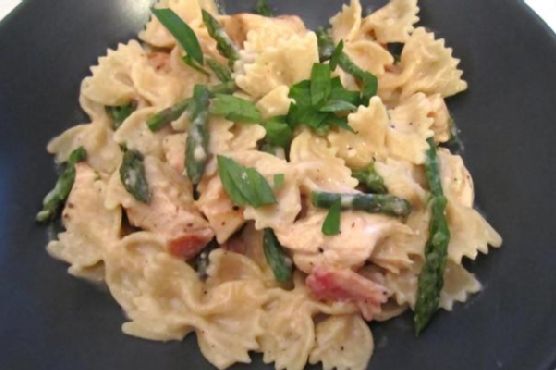 The recipe Chicken Farfalle with Low-Fat Alfredo Sauce could satisfy your Mediterranean craving in around 45 minutes. This recipe makes 4 servings with 674 calories, 43g of protein, and 9g of fat each. For $1.98 per serving, this recipe covers 27% of your daily requirements of vitamins and minerals. Only a few people made this recipe, and 7 would say it hit the spot. It works well as a main course. A mixture of juice of lemon, farfalle pasta, wine, and a handful of other ingredients are all it takes to make this recipe so scrumptious. To use up the salt you could follow this main course with the Apple Turnovers Recipe as a dessert. All things considered, we decided this recipe deserves a spoonacular score of 79%. This score is solid. Try Low-Fat Cinnamon Energy Balls, Low Carb Alfredo Sauce with Spiralized Zucchini, and Low Carb Bagels – Coconut Flour Fat Head Dough for similar recipes.
Chicken Farfalle with Low-Fat Alfredo Sauce Instructions
1. Cook chicken breasts (I sauteed mine with a little olive oil and salt and pepper) and set aside. Cook pasta while cooking the chicken and set aside.
2. In a sauce pan, melt butter. Add flour and stir in with butter, cook for 1 minute. Whisk in milk, salt and pepper, garlic powder, lemon juice, and wine. Bring to a boil, constantly whisking. Reduce the heat and simmer for about 5 more minutes. Sauce should thicken.
3. In a large saute pan, add pasta, chicken, and any other desired additions. Heat pan on medium heat. Add alfredo sauce and toss with pasta. Sprinkle with Parmesan cheese and additional salt and pepper (if needed) and serve!
Notes: This recipe made more sauce than I really needed, but I liked having extra. This way, you can add as much sauce as you prefer!
Credit: Foodista.com – The Cooking Encyclopedia Everyone Can Edit