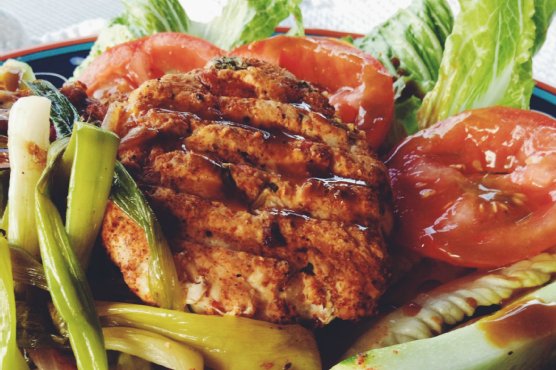 Chicken Burgers with Spiced Rub is an American main course. This recipe serves 4 and costs $5.66 per serving. Watching your figure? This gluten free recipe has 847 calories, 88g of protein, and 45g of fat per serving. If you have salt, cilantro, garlic, and a few other ingredients on hand, you can make it. This recipe from Foodista has 1 fans. From preparation to the plate, this recipe takes around 30 minutes. Overall, this recipe earns an excellent spoonacular score of 85%. Similar recipes are Indian-Spiced Chicken Burgers, Spiced meat rub, and Lemon Chicken Pita Burgers with Spiced Yogurt Sauce.
Chicken Burgers with Spiced Rub Instructions
Make a rub by combining the paprika, garlic powder, chili powder, oregano, and ground cumin in a medium sized bowl. Set aside.
Place the ground chicken in a large bowl and add the chopped sun dried tomatoes, chopped garlic, juice and zest of 1 lemon, chopped cilantro, salt, pepper, grated Parmesan, chopped scallions, and olive oil.
Shape the burgers into a ball and roll in the rub; then flatten the burgers to desired thickness.
Grill burger until juices run clear. The cooking time depends on the thickness of the burger.
Prepare the dressing by combining the mustard, balsamic vinegar, honey, 1/4 tsp salt, and 1/4 tsp pepper in a small bowl and whisk.
Serve burgers with lettuce, tomato, and cucumber drizzled with honey mustard dressing. Feel free to drizzle some over the burger as well!
Credit: Foodista.com – The Cooking Encyclopedia Everyone Can Edit