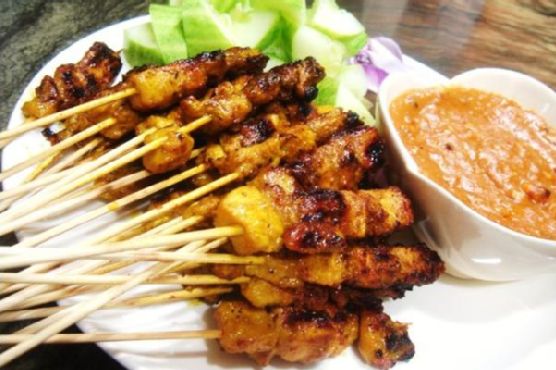 Chelley's Thai Style Chicken Satay might be just the Asian recipe you are searching for. One serving contains 568 calories, 21g of protein, and 49g of fat. This recipe serves 30 and costs $2.2 per serving. 1 person has made this recipe and would make it again. It works well as a budget friendly main course. If you have onion, fish sauce, lemon juice, and a few other ingredients on hand, you can make it. To use up the ground cumin you could follow this main course with the Moroccan Chocolate Mousse as a dessert. All things considered, we decided this recipe deserves a spoonacular score of 51%. This score is solid. Try Thai Chicken Satay, Thai Chicken Satay, and Thai Chicken Satay with Peanut Sauce for similar recipes.
Chelley's Thai Style Chicken Satay Instructions
For satay:
Method:
Marinate chicken with marinade for at least 2 hours or preferably overnight in the fridge.
Make sure to soak bamboo sticks in water for 30 minutes before skewering the meat.
Cook satays on greased grill griddle and brush on oil and leftover marinade as needed. Cook about 3 minutes on each side.
Serve satays with peanut sauce, cucumber and onions.
For Peanut Sauce:
Method:
Bring coconut milk to a boil and add the rest of the ingredients and adjust to taste accordingly.
Credit: Foodista.com – The Cooking Encyclopedia Everyone Can Edit