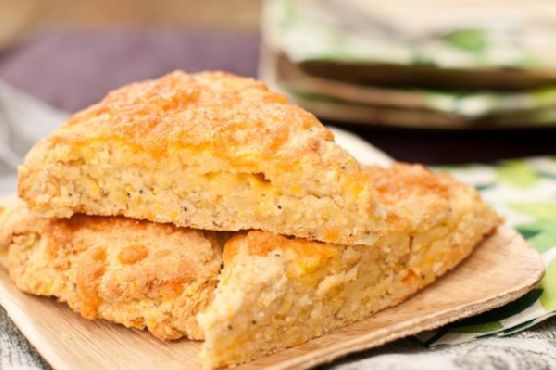 Cheesy Potato Corn Scones might be a good recipe to expand your breakfast repertoire. This lacto ovo vegetarian recipe serves 8 and costs 34 cents per serving. One serving contains 248 calories, 8g of protein, and 12g of fat. A mixture of cornmeal, flour, milk, and a handful of other ingredients are all it takes to make this recipe so tasty. This recipe is liked by 22 foodies and cooks. This recipe is typical of European cuisine. It is brought to you by Foodista. From preparation to the plate, this recipe takes approximately approximately 45 minutes. Overall, this recipe earns a not so outstanding spoonacular score of 33%. Try Cheesy Potato and Corn Chowder, Slow Cooker Cheesy Potato Corn Chowder, and Cheesy Sausage Scones for similar recipes.
Cheesy Potato Corn Scones Instructions
Lightly greased a baking sheet; set aside. In a small saucepan, bring the water just to a simmer; remove from heat. Stir in potato flakes until moistened. Stir in butter until it's incorporated to potato flakes. In a large bowl, combine flour, cornmeal, 3/4 cup of the cheese, baking powder, salt, and poppy seeds; stir in potato mixture and milk. With floured hand, gently knead and fold the dough for five to six strokes, or until the dough comes together in one mass. Pat the dough lightly to flatten it into a 9-inch circle on prepared baking sheet. Cut dough into eight wedges using a pizza cutter or floured knife (do not separate). Sprinkle edges with remaining cheese. Bake in a preheated 400 degree F oven for about 25 minutes or until lightly browned. Gently pull or cut scones to separate. Serve warm.
Credit: Foodista.com – The Cooking Encyclopedia Everyone Can Edit