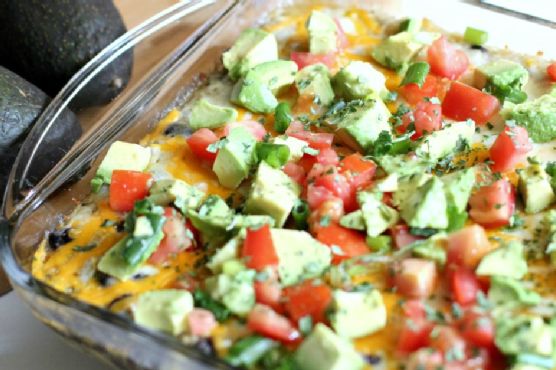 Cheesy Chicken Enchilada Quinoa Casserole might be just the main course you are searching for. This gluten free recipe serves 4 and costs $2.62 per serving. One serving contains 594 calories, 34g of protein, and 24g of fat. Autumn will be even more special with this recipe. 9912 people have tried and liked this recipe. From preparation to the plate, this recipe takes about 30 minutes. Head to the store and pick up chili powder, cumin, verde enchilada sauce, and a few other things to make it today. To use up the avocado you could follow this main course with the chocolate avocado mousse | quick dark chocolate avocado mousse as a dessert. This recipe is typical of Mexican cuisine. All things considered, we decided this recipe deserves a spoonacular score of 98%. This score is excellent. Try Cheesy Chicken Enchilada Casserole, Quinoa Chicken Enchilada Casserole, and The Heartbreak of Success, and A Healthy, Easy, and Cheesy Chicken and Brown Rice Enchilada Casserole for similar recipes.
Cheesy Chicken Enchilada Quinoa Casserole Instructions
To get started, heat your oven to 350 and prepare an 8x8 baking dish. Cook the quinoa according to the instructions. If you haven't already, boil and shred your chicken breast.In a medium sized mixing bowl add 2 Tbsp cilantro, 1 cup shredded cheese, quinoa, tomatoes with chilis, black beans, half of the can of sweet corn, verde enchilada sauce, cumin, chili powder, white pepper, black pepper, and salt to taste. Mix everything well, and then pour into the 8 x8 baking dish. Cover with the last cup of cheese and then bake in the oven for 15 minutes.Remove from oven and allow to cool for 5 minutes. Then top with chopped Roma tomato, chopped avocado, green onion tops, and remaining 2 tsp of cilantro. Serve immediately.
Credit: Jen West