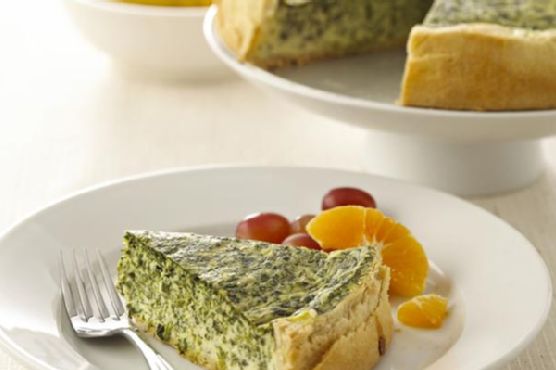 Need a lacto ovo vegetarian breakfast? Chavrie Spinach Quiche could be a super recipe to try. One serving contains 173 calories, 9g of protein, and 14g of fat. This recipe serves 8. For $1.48 per serving, this recipe covers 16% of your daily requirements of vitamins and minerals. 1 person has tried and liked this recipe. From preparation to the plate, this recipe takes around around 45 minutes. It is a rather cheap recipe for fans of Mediterranean food. A mixture of chavrie goat cheese, nutmeg, es pie crust pre-baked, and a handful of other ingredients are all it takes to make this recipe so delicious. It is brought to you by Foodista. With a spoonacular score of 44%, this dish is solid. Chavrie Guacamole, Chavrie Tabbouleh, and Chavrie Vichyssoise are very similar to this recipe.
Chavrie Spinach Quiche Instructions
Blend Chavrie with eggs and mix well. Add cream and half and half to make custard and season with salt, pepper, cayenne and nutmeg. Scatter the spinach evenly over the bottom of the pre-baked piecrust. Pour custard into the shell stirring with a fork to evenly distribute the spinach. Bake at 350 F for 45 minutes, until a knife blade inserted into it comes out clean. Let rest and serve warm. Variations: Substitute Spinach with 12 oz. fresh diced asparagus.
Credit: Foodista.com – The Cooking Encyclopedia Everyone Can Edit