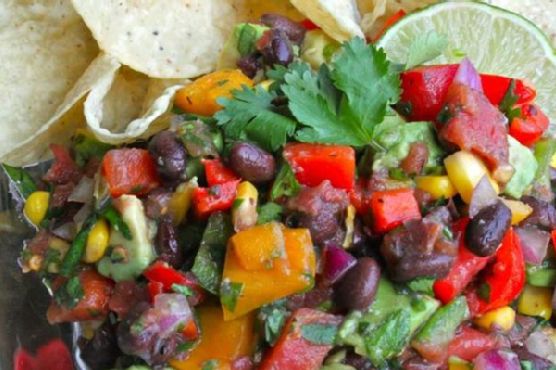 Carolina Caviar - Black Bean Salsa might be just the hor d'oeuvre you are searching for. This recipe serves 4. Watching your figure? This gluten free, dairy free, lacto ovo vegetarian, and vegan recipe has 440 calories, 15g of protein, and 17g of fat per serving. For $2.3 per serving, this recipe covers 33% of your daily requirements of vitamins and minerals. This recipe is liked by 1 foodies and cooks. A mixture of package corn, 2 of an onion, cilantro, and a handful of other ingredients are all it takes to make this recipe so flavorful. It is a rather cheap recipe for fans of Mexican food. It is brought to you by Foodista. From preparation to the plate, this recipe takes roughly roughly 45 minutes. Overall, this recipe earns a great spoonacular score of 90%. Try Black Bean Salsa -Oklahoma Caviar, Plantains with Caviar and Black Bean Puree, and Black Bean & Black-Eyed Pea Salsa for similar recipes.
Carolina Caviar - Black Bean Salsa Instructions
Add all ingredients together in a large bowl; tasting and adjusting as you go! Chill in the refrigerator overnight. Adjust seasoning to preference levels after the salsa sets overnight and the flavors blend/marry. Serve with tortilla chips.
Credit: Foodista.com – The Cooking Encyclopedia Everyone Can Edit