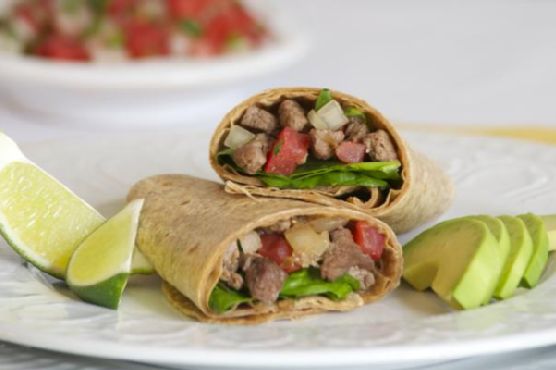 The recipe Carne Asada Burritos can be made in about around 45 minutes. This recipe makes 6 servings with 432 calories, 31g of protein, and 16g of fat each. For $2.83 per serving, this recipe covers 28% of your daily requirements of vitamins and minerals. Only a few people really liked this main course. 1 person has made this recipe and would make it again. A mixture of kosher salt, onion, ground cumin, and a handful of other ingredients are all it takes to make this recipe so delicious. It is a budget friendly recipe for fans of Latin American food. It is brought to you by Foodista. It is a good option if you're following a dairy free diet. All things considered, we decided this recipe deserves a spoonacular score of 76%. This score is solid. Crock Pot Carne Asada for Burritos, Carne Asada, and Carne Asada are very similar to this recipe.
Carne Asada Burritos Instructions
In a medium sized bowl combine beef, cumin, paprika, pepper, salt and lime juice. Toss to combine and coat meat. Cover and place in refrigerator for at least 30 minutes. Prepare pico de gallo in a small bowl. Cover and let sit until ready to assemble burritos. Prepare avocado slices and drizzle with fresh lime juice to keep them from browning. In a large skillet heat olive oil over medium-high heat. Add onion and garlic to pan and cook just until garlic is fragrant. Add beef to pan and cook for 3-5 minutes. Warm tortillas in a large pan over medium heat. Place cup meat, 2 tablespoons of pico de gallo, and a double layer of spinach leaves in the center of each tortilla. Fold sides over filling, then roll one edge over filling and roll until filling is completely covered. Place seam side down on plate. Serve with lime wedge and sliced avocado.
Credit: Foodista.com – The Cooking Encyclopedia Everyone Can Edit