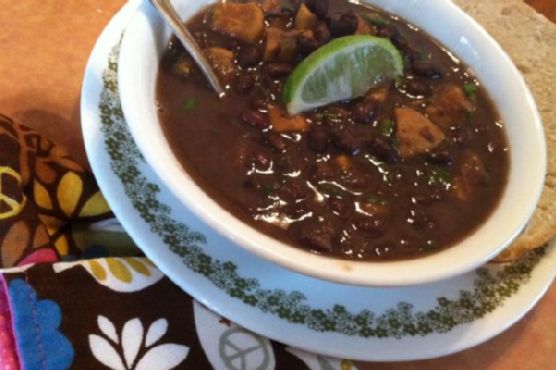 If you want to add more gluten free, dairy free, lacto ovo vegetarian, and vegan recipes to your repertoire, Caribbean black bean and sweet potato soup might be a recipe you should try. This main course has 403 calories, 20g of protein, and 6g of fat per serving. This recipe serves 6. For $1.85 per serving, this recipe covers 20% of your daily requirements of vitamins and minerals. If you have sweet potatoes and into, vegetable broth, onion, and a few other ingredients on hand, you can make it. 3 people were impressed by this recipe. It is brought to you by Foodista. This recipe is typical of Central American cuisine. It is perfect for Autumn. From preparation to the plate, this recipe takes around around 45 minutes. All things considered, we decided this recipe deserves a spoonacular score of 64%. This score is good. Similar recipes are Black Bean and Sweet Potato Soup, Caribbean Black Bean Soup, and Chipotle Sweet Potato Black Bean Soup.
Caribbean black bean and sweet potato soup Instructions
Rinse beans and place in a large bowl. Cover beans with 4 inches of water and soak overnight (or 8 hours). Strain and rinse black beans. In a large soup pot, heat the oil over medium heat. Add onion and jalapeno and saut for 10 minutes, until soft. Add beans and vegetable broth or water. Stir in ginger, allspice, thyme and salt. Bring to a boil, then reduce heat and simmer for 1 hour 30 minutes. Add sweet potatoes and brown sugar and simmer for an additional 30 minutes, until beans and sweet potatoes are soft. Puree 1 cup of the soup in a blender and then add it back into the soup pot. Stir in cilantro and green onion. Salt and pepper to taste.
Credit: Foodista.com – The Cooking Encyclopedia Everyone Can Edit