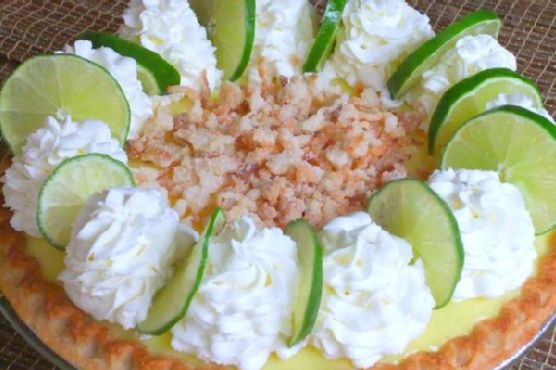 Caribbean Truffle Pie might be just the Central American recipe you are searching for. This recipe serves 8 and costs $1.58 per serving. One serving contains 701 calories, 8g of protein, and 43g of fat. From preparation to the plate, this recipe takes roughly 2 hours and 30 minutes. 1 person has made this recipe and would make it again. A mixture of heavy whipping cream, pie crust, lime, and a handful of other ingredients are all it takes to make this recipe so scrumptious. All things considered, we decided this recipe deserves a spoonacular score of 22%. This score is not so excellent. Try Caribbean Truffle Pie, Easy Truffle ~ Chocolate and Roses Truffle Spoons, and The Classic Truffle and the Coconut Truffle for similar recipes.
Caribbean Truffle Pie Instructions
Heat oven to 450 degrees. Allow 1 crust pouch to stand at room temperature for 15 to 20 minutes. (Refrigerate remaining crust for a later use.) Remove pie crust from pouch. Unfold crust; remove plastic sheet. Sprinkle with 2 tablespoons coconut; press in lightly. Carefully lift crust off second plastic sheet. Place crust, coconut side up, in 9-inch pie pan; press in bottom and up sides of pan. Flute edge; prick crust generously with fork. Bake at 450 degrees for 9 to 11 minutes or until golden brown. Cool crust while preparing streusel and filling. Reduce oven temperature to 425 degrees.
In small bowl, combine flour and 1/4 cup sugar. With pastry blender or fork, cut in butter until mixture resembles coarse crumbs. Stir in 1/4 cup coconut. Spread mixture in ungreased shallow baking pan. Bake at 425 degrees for 4 to 8 minutes or until golden brown, stirring every minutes. Set aside.
In medium saucepan, combine pudding mix, 1/2 cup sugar, lime juice and egg yolks; mix well. Stir in 2 cups water. Cook and stir over medium heat until mixture comes to a full boil. Remove from heat; stir in lime peel. In small bowl, combine white chocolate chips and 1/2 cup of the hot pudding mixture; stir until chips are melted.
In small bowl, beat cream cheese until light and fluffy. Add white chocolate chip mixture; beat until smooth. Spoon and spread in baked crust. Stir sour cream into remaining pie filling mixture; blend well. Spoon and spread over cream cheese layer. Refrigerate 2 hours or until chilled.
In small bowl, beat whipping cream until stiff peaks form. Pipe or spoon around edge of pie; garnish with line slices. Sprinkle steusel in center of pie. Store in refrigerator.
Credit: Foodista.com – The Cooking Encyclopedia Everyone Can Edit