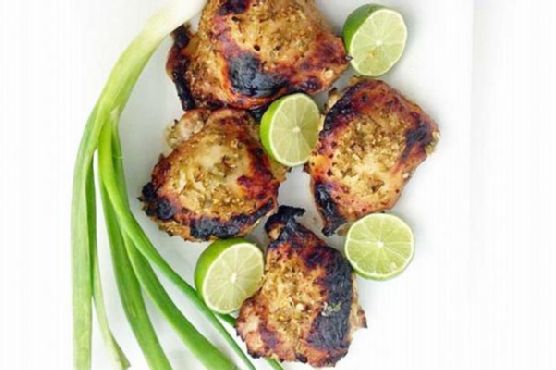 Caribbean Chicken Thighs requires around around 45 minutes from start to finish. For $3.07 per serving, this recipe covers 33% of your daily requirements of vitamins and minerals. One portion of this dish contains about 49g of protein, 49g of fat, and a total of 784 calories. This recipe serves 2. 1 person has made this recipe and would make it again. It is brought to you by Foodista. If you have onion, jalapeno, juice of lime, and a few other ingredients on hand, you can make it. It is a good option if you're following a gluten free and dairy free diet. This recipe is typical of Central American cuisine. Taking all factors into account, this recipe earns a spoonacular score of 58%, which is solid. Similar recipes include Grilled Caribbean Chicken Thighs, Caribbean Chicken, and Caribbean Chicken.
Caribbean Chicken Thighs Instructions
Prepare marinade: In a food processor, add lime juice, garlic, onion, jalapeno, and green onion . Pulse until pureed. Pour into a small bowl, add pineapple juice, brown sugar, and spices. Mix together. In a gallon plastic bag, add chicken, and marinade. Mix together. Place in fridge and let marinate for at least 4 hours to 24 hours. Preheat broiler. Remove from bag and place chicken skin side down in a baking sheet lined with aluminum foil. Cook for 5 minutes till the tops are no longer pink. Flip over and cook for remaining 25 minutes till the skin is crispy. Serve immediately. Enjoy!
Credit: Foodista.com – The Cooking Encyclopedia Everyone Can Edit