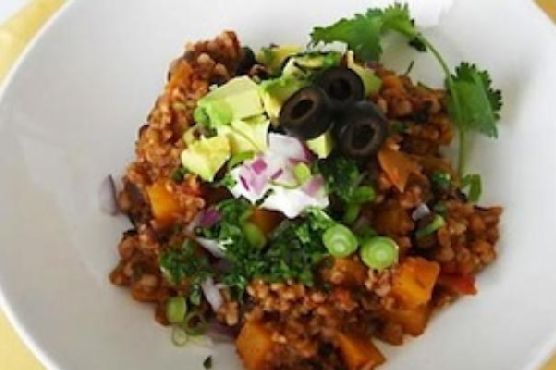 Butternut Squash and Black Bean Chili with Bulgar might be just the American recipe you are searching for. One serving contains 228 calories, 9g of protein, and 3g of fat. For $1.24 per serving, this recipe covers 20% of your daily requirements of vitamins and minerals. It can be enjoyed any time, but it is especially good for The Super Bowl. A mixture of butternut squash, mexican oregano, tomatoes, and a handful of other ingredients are all it takes to make this recipe so flavorful. Only a few people made this recipe, and 1 would say it hit the spot. It works best as a soup, and is done in around 45 minutes. It is a good option if you're following a vegan diet. All things considered, we decided this recipe deserves a spoonacular score of 86%. This score is great. Try Black Bean Butternut Squash Chili, Butternut Squash Black Bean Chili, and Black Bean and Butternut Squash Chili for similar recipes.
Butternut Squash and Black Bean Chili with Bulgar Instructions
-In a large pot, heat the olive oil over a medium-high flame. Add the onion, garlic, chili powder, cumin, coriander & oregano. Sweat until the onions begin the turn translucent.
-Add the black beans, chipotle chiles, butternut squash, tomato and vegetable stock. Season with salt and pepper. Bring the mixture to a simmer and add the bulgar. Allow the chili to cook about 30-40 minutes until the squash is tender and the bulgar to soft. Garnish with your favorite toppings.
Credit: Foodista.com – The Cooking Encyclopedia Everyone Can Edit