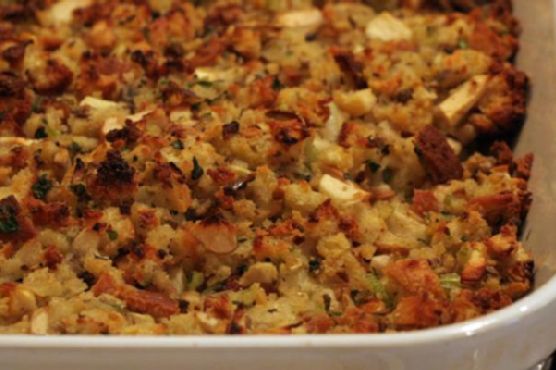 Buttermilk Cornbread and Sage Stuffing is a Southern recipe that serves 10. One serving contains 669 calories, 17g of protein, and 32g of fat. For $1.27 per serving, this recipe covers 31% of your daily requirements of vitamins and minerals. If you have kosher salt, sage, eggs, and a few other ingredients on hand, you can make it. This recipe is liked by 7 foodies and cooks. From preparation to the plate, this recipe takes approximately approximately 45 minutes. It will be a hit at your Thanksgiving event. It works well as a side dish. It is brought to you by Foodista. All things considered, we decided this recipe deserves a spoonacular score of 70%. This score is solid. Similar recipes include Sage and Cornbread Stuffing, Sausage, Sage & Cornbread Stuffing, and Cornbread Apple and Sage Stuffing.
Buttermilk Cornbread and Sage Stuffing Instructions
Preheat oven to 325F. Spread all bread crumbs in a shallow baking pan and bake until dry, about 15 minutes total. Cool crumbs in pan, then transfer to a large bowl and stir in parsley, sage, salt, and pepper. Melt butter in a large heavy skillet over moderate heat. Add onions and liver and cook, stirring occasionally, until onions are softened, 8 to 10 minutes. Add celery and cook, stirring occasionally, 5 minutes. Transfer to bowl with crumbs and toss well. Add eggs, stock, and cream and toss well. Transfer stuffing to a buttered 2 1/2- to 3-quart shallow baking dish. Bake, covered, in middle of oven 30 minutes, then uncover and bake until browned, about 30 minutes more.
Credit: Foodista.com – The Cooking Encyclopedia Everyone Can Edit