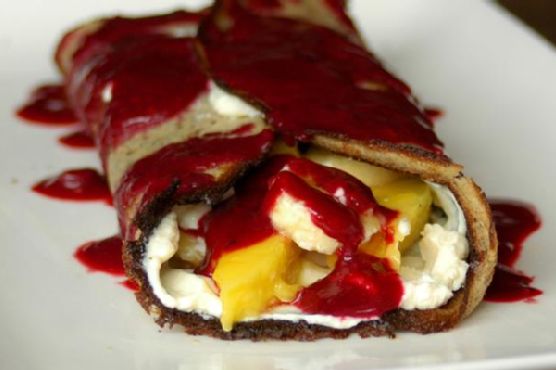 Buckwheat Crepes is a gluten free, dairy free, and lacto ovo vegetarian recipe with 1 servings. One portion of this dish contains approximately 13g of protein, 14g of fat, and a total of 377 calories. For 92 cents per serving, this recipe covers 16% of your daily requirements of vitamins and minerals. It works well as a very affordable breakfast. 1 person were glad they tried this recipe. Head to the store and pick up honey, salt, buckwheat flour or, and a few other things to make it today. It is brought to you by Foodista. This recipe is typical of Mediterranean cuisine. From preparation to the plate, this recipe takes approximately approximately 45 minutes. Taking all factors into account, this recipe earns a spoonacular score of 41%, which is good. If you like this recipe, you might also like recipes such as Buckwheat crêpes, Buckwheat Crepes, and Basic Buckwheat Crêpes.
Buckwheat Crepes Instructions
Combine kefir (or other), oil and grain in the blender. Blend for about 3 minutes on high or just 30 seconds if using flour. Cover blender and let batter stand overnight at room temp to break down the phytates. After soaking, add egg, salt, honey & cinnamon (if making sweet style). Blend till well mixed. Rub your cast iron pan with oil and get it nicely hot, but not smokey. Have a napkin ready for rubbing more in between crepes. Pour about 1/4 cup of batter into the hot pan and quickly tilt the pan to spread the batter evenly to the edges. Mix your batter each time before making each new crepe. Cook till edges are browned and loosen along the edges with a thin table knife or spatula. Turn over crepe and cook for about 30 seconds. Turn over onto a plate and keep it warm with a light towel covering it. Rub more oil on pan and continue till batter is used up. Top with Creamy Honey Cheese, your choice of fruit and syrup. For the blackberry syrup… I cooked the berries with a little water till they were mush, added arrowroot powder and boiled it gently till it thicken. Then I added honey and pour the mixture in my blender. Gave it a whirl till smooth and poured into a jar to serve. Simple, tart and sweet!
Credit: Foodista.com – The Cooking Encyclopedia Everyone Can Edit