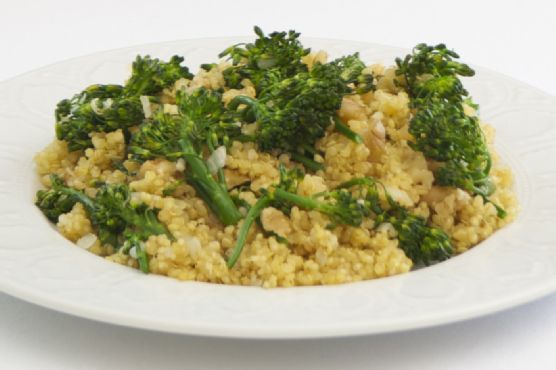 If you want to add more Mediterranean recipes to your recipe box, Broccolini Quinoa Pilaf might be a recipe you should try. One portion of this dish contains around 20g of protein, 31g of fat, and a total of 625 calories. This recipe serves 2 and costs $4.14 per serving. A few people really liked this main course. 95 people have made this recipe and would make it again. Head to the store and pick up quinoa, garlic clove, olive oil, and a few other things to make it today. From preparation to the plate, this recipe takes roughly 30 minutes. It is a good option if you're following a gluten free, dairy free, lacto ovo vegetarian, and vegan diet. It is brought to you by Pick Fresh Foods. All things considered, we decided this recipe deserves a spoonacular score of 98%. This score is awesome. Similar recipes include Spring Broccolini & Kale Quinoa Bowls, Orange-Sesame Salmon with Quinoa & Broccolini, and Black Pepper Goat Cheese and Chard Quinoa with Roasted Broccolini.
Broccolini Quinoa Pilaf Instructions
In a large pan with lid heat olive oil over medium high heat. Add onions and cook for 1 minute. Add garlic and cook until onions are translucent and garlic is fragrant.
Add quinoa to pan, stir to combine. Slowly add in broth and bring to a boil.
Cover and reduce heat to low, cook for 15 minutes.
In the last 2-3 minutes of cooking add in broccolini on top of the quinoa (do not stir) and cover.
Uncover and toss broccolini and quinoa together.
Season to taste with salt and pepper.
Add walnuts and serve hot.
Credit: Pick Fresh Foods