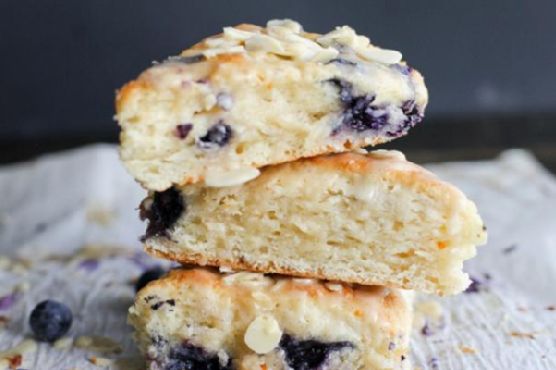 If you have around around 45 minutes to spend in the kitchen, Blueberry & Orange Maple Scones might be a super lacto ovo vegetarian recipe to try. One serving contains 251 calories, 3g of protein, and 15g of fat. This recipe serves 16. For 64 cents per serving, this recipe covers 5% of your daily requirements of vitamins and minerals. 1 person were impressed by this recipe. It is brought to you by Foodista. It is an inexpensive recipe for fans of European food. A mixture of eggs, vanillan extract, salt, and a handful of other ingredients are all it takes to make this recipe so yummy. Only a few people really liked this breakfast. All things considered, we decided this recipe deserves a spoonacular score of 10%. This score is not so super. If you like this recipe, take a look at these similar recipes: Blueberry Orange Scones, Orange Glazed Blueberry Scones, and Wild blueberry orange scones.
Blueberry & Orange Maple Scones Instructions
Preheat oven to 400F In the bowl of a mixer, mix together 2 cups flour, baking powder, salt and maple syrup Add in the butter and mix until it's the size of peas In separate bowl, mix together 1 cup of the cream, eggs, orange zest, vanilla and orange extracts, and slowly add into the mixer. Toss the blueberries in the remaining 2 tbsp of flour and gently fold into the batter On a floured surface, carefully shape the dough into a ball and cut in half. Lightly dust the surface of the dough with more flour and press into disc shape about 3/4" thick. Brush each disc with the remaining 2 tbsp of cream and sprinkle with sugar Bake for 25 min, or until browned and slightly firm to the touch. Cool on wire rack In bowl, mix together the icing sugar, vanilla and orange juice. Stir until no lumps are left and is combined. Drizzle over top the scones and allow to cool completely.
Credit: Foodista.com – The Cooking Encyclopedia Everyone Can Edit