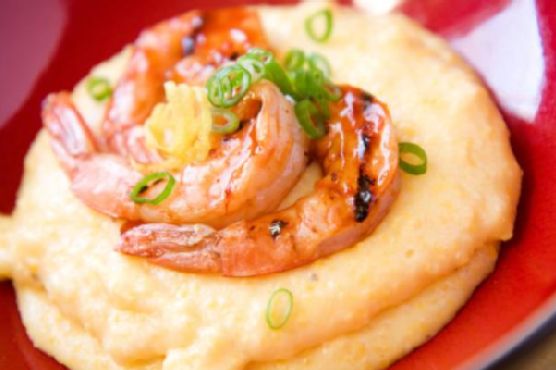 Barbecued Shrimp & Grits might be just the morn meal you are searching for. This gluten free recipe serves 6 and costs $4.05 per serving. One serving contains 656 calories, 47g of protein, and 31g of fat. From preparation to the plate, this recipe takes roughly 45 minutes. A few people made this recipe, and 55 would say it hit the spot. This recipe is typical of Southern cuisine. If you have sharp cheddar cheese, barbecue sauce, butter, and a few other ingredients on hand, you can make it. All things considered, we decided this recipe deserves a spoonacular score of 66%. This score is pretty good. Similar recipes include Shrimp and Grits, Shrimp and Grits, and Shrimp and Grits.
Barbecued Shrimp & Grits Instructions
Fry bacon until crisp, crumble and set aside.
Peel and devein shrimp.
Grill shrimp on a skewer for 2-3 minutes on each side or until pink. Alternatively, fry shrimp over medium heat, a few minutes per side until pink (about 5-8 minutes total).
Saute garlic in 1 tbsp butter.
Bring water to boil, add grits.
Stir and cover for 5 minutes then turn heat to low.
Stir in cheese, remaining butter, garlic, and salt.
Toss shrimp in barbecue sauce.
Layer grits, shrimp, bacon, and scallions in a bowl and serve piping hot.
Top with additional barbecue sauce if desired.
Credit: Foodista.com – The Cooking Encyclopedia Everyone Can Edit