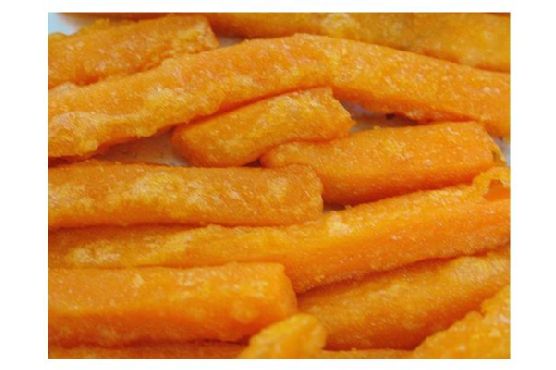 Need a gluten free, dairy free, and whole 30 side dish? Baked Sweet Potato Fries could be an outstanding recipe to try. For $1.67 per serving, this recipe covers 23% of your daily requirements of vitamins and minerals. This recipe makes 1 servings with 496 calories, 7g of protein, and 12g of fat each. A mixture of margarine, dash nutmeg, t seasoned salt, and a handful of other ingredients are all it takes to make this recipe so flavorful. This recipe from Foodista has 1 fans. From preparation to the plate, this recipe takes around 45 minutes. This recipe is typical of American cuisine. All things considered, we decided this recipe deserves a spoonacular score of 89%. This score is tremendous. Try Baked Sweet Potato Fries, Baked Sweet Potato Fries, and Baked Sweet Potato Fries for similar recipes.
Baked Sweet Potato Fries Instructions
Spray a 15 x 10 x 1 inch baking pan with nonstick coating. Scrub potatoes; cut lengthwise into quarters, then cut each quarter into 2 wedges. Arrange potatoes in a single layer in pan.
Combine margarine or butter, salt, and nutmeg. Brush onto potatoes. Bake in a 450 oven 20 minutes or until brown and tender.
Credit: Foodista.com – The Cooking Encyclopedia Everyone Can Edit