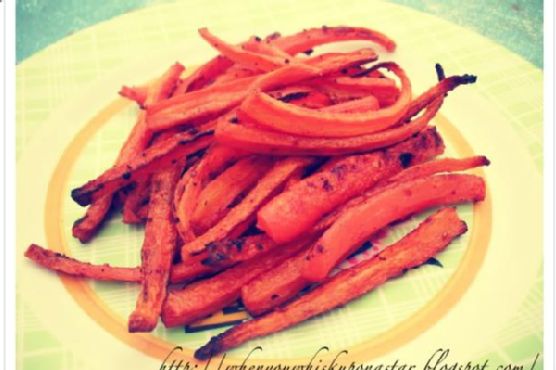 Baked Sweet Chili Carrot Fries takes about around 45 minutes from beginning to end. This recipe serves 4 and costs 64 cents per serving. One serving contains 156 calories, 3g of protein, and 4g of fat. A mixture of bell pepper, chili powder, agave nectar, and a handful of other ingredients are all it takes to make this recipe so tasty. It will be a hit at your The Super Bowl event. 1 person has made this recipe and would make it again. It works well as a side dish. It is a good option if you're following a gluten free, dairy free, lacto ovo vegetarian, and vegan diet. This recipe is typical of American cuisine. It is brought to you by Foodista. With a spoonacular score of 75%, this dish is solid. Similar recipes are Baked Carrot and Sweet Potato Fries, Lime Steamed Curry Cod & Chili Garlic Baked Sweet Potato Fries, and Sweet Potato Fries with Walnuts, Brown Sugar, & Sweet Chili Sauce.
Baked Sweet Chili Carrot Fries Instructions
Preheat oven to 425 degrees. Place the carrot sticks in a large Tupperware bowl that has a tight-fitting lid. Pour oil and remaining ingredients into the bowl, on top of the carrot sticks. Secure the lid and shake the ingredients around vigorously until every last carrot stick is coated with flavor. Place the carrot sticks, in a single layer, on an ungreased cookie sheet. Bake for about 15 minutes. Check the carrot sticks, shake the pan, flip them around, whatever you need to do. Continue to bake for an additional 5-15 minutes, until carrot sticks are soft in the middle but nice and crunchy around the edges. Watch them closely.
Credit: Foodista.com – The Cooking Encyclopedia Everyone Can Edit