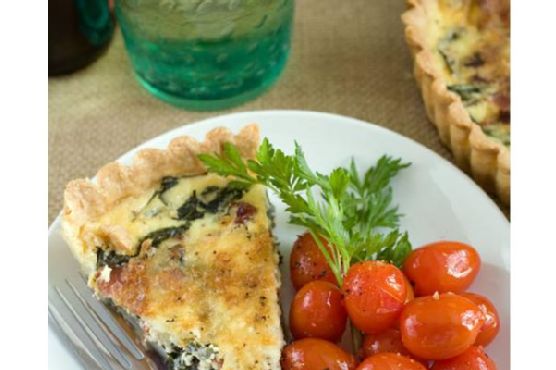 Bacon and Arugula Quiche might be just the Mediterranean recipe you are searching for. This recipe serves 8 and costs 96 cents per serving. This morn meal has 242 calories, 8g of protein, and 22g of fat per serving. 1 person were impressed by this recipe. A mixture of pepper, shallots, swiss cheese, and a handful of other ingredients are all it takes to make this recipe so delicious. From preparation to the plate, this recipe takes about 45 minutes. All things considered, we decided this recipe deserves a spoonacular score of 44%. This score is solid. Try Arugulan and Bacon Quiche, Butternut Squash, Arugulan and Bacon Quiche, and Ricottan and Arugula Quiche for similar recipes.
Bacon and Arugula Quiche Instructions
Preheat oven to 400 F. Thaw purchased crust for 10 minutes. Bake 10-12 minutes until golden. After pre-baking purchased crust, lower oven temperature to 375F.
In a large skillet on medium heat,cook bacon pieces until crispy. Drain on paper towels, reserving 2 tablespoons bacon drippings. Add chopped shallots and saute until tender. Add chopped arugula, saute until just wilted, about 1 minute. Remove from heat, add balsamic vinegar and toss to combine.
In prepared pastry, layer arugula mixture, then crispy bacon pieces. In a large measuring cup or bowl, whisk together heavy cream, eggs and salt and pepper. Stir in Gruyere cheese. Pour this mixture over the arugula bacon layers. Bake until puffed and golden, about 35 minutes. Let stand at least 10 minutes before slicing.
Credit: Foodista.com – The Cooking Encyclopedia Everyone Can Edit