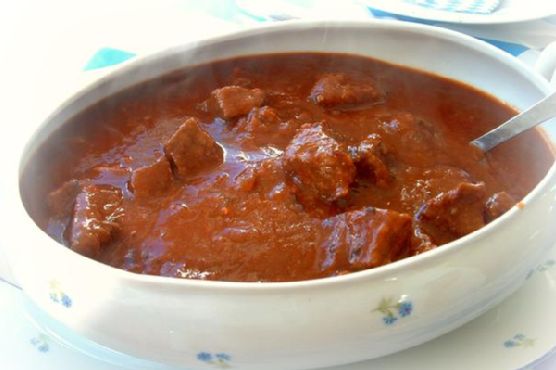 Austrian Goulash might be just the Eastern European recipe you are searching for. One serving contains 471 calories, 44g of protein, and 26g of fat. For $1.82 per serving, you get a main course that serves 12. 5 people have tried and liked this recipe. A mixture of lemon zest, onions, tomato sauce, and a handful of other ingredients are all it takes to make this recipe so flavorful. To use up the caraway seeds you could follow this main course with the Caraway Scones as a dessert. It is a good option if you're following a dairy free diet. From preparation to the plate, this recipe takes approximately 2 hours and 10 minutes. All things considered, we decided this recipe deserves a spoonacular score of 79%. This score is solid. Try Austrian hash, Austrian Nut Cookies, and Austrian Raspberry Shortbread for similar recipes.
Austrian Goulash Instructions
You will need a large Dutch oven with a lid for best results. Add just enough olive oil to coat the pan and turn the heat high enough to make the oil shimmer, but not smoke.
Pat the meat dry and dredge in flour, seasoned with kosher salt & cracked pepper.
Add one piece of meat to the hot oil to make sure that it sizzles. Add the remaining meat, without crowding the pan and sear for about 3-4 minutes per side. You want a golden crust that will give the gravy great flavor.
Cook the meat in batches, if necessary and set aside in a bowl-- to collect the juice.
When all the meat is seared, turn the heat to medium and add a little more olive oil to the pan and cook the onion until tender-- 3-4 minutes. Add the sliced garlic and cook till fragrant-- 30 seconds or so.
Add the tomato paste and paprika, and cook for 1-2 minutes.
Add the tomato sauce, caraway seeds, lemon zest and chicken stock and stir well.
Bring to a simmer for about 15 minutes and taste for seasoning. Adjust as necessary. If the sauce is too thick, thin with a little more chicken stock or water until it is the consistency of a gravy.
Simmer for 2 hours, or you can use a slow cooker for 4-6 hours.
This stew tastes even better if made one day in advance.
Credit: Foodista.com – The Cooking Encyclopedia Everyone Can Edit