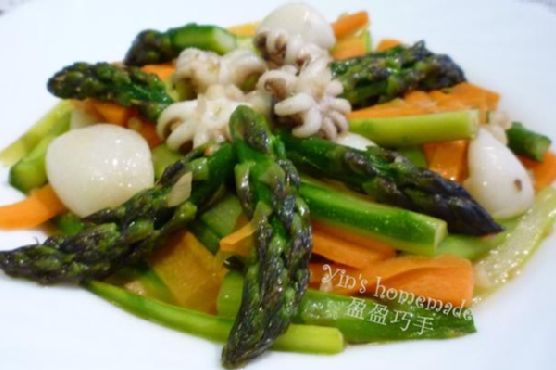 The recipe Asparagus Thai Style With Squids is ready in about 45 minutes and is definitely an outstanding gluten free, dairy free, and pescatarian option for lovers of Asian food. This recipe makes 2 servings with 191 calories, 6g of protein, and 14g of fat each. For $2.41 per serving, this recipe covers 20% of your daily requirements of vitamins and minerals. Only a few people made this recipe, and 1 would say it hit the spot. It works well as a rather inexpensive side dish. If you have garlic, water, squids, and a few other ingredients on hand, you can make it. All things considered, we decided this recipe deserves a spoonacular score of 63%. This score is good. Try Tofu & asparagus pad Thai, Asparagus With Thai Dipping Sauce, and Red Thai Curry with Shrimp and Asparagus for similar recipes.
Asparagus Thai Style With Squids Instructions
Heat 2 tbsp oil and saut chopped garlic until fragrant.
Add in asparagus, stir fry a while then add in carrot and stir well.
Add in fish sauce, sugar and a little water if it becomes too dry.
Now add in squid, stir-fry for about 1-2 minutes, or until squid curls up. Don't overcook squid, as it will become rubbery.
Test for taste, adding more fish sauce if not salty enough. But if too salty for your taste, add a little more sugar. Dish up and serve immediately.
Credit: Foodista.com – The Cooking Encyclopedia Everyone Can Edit