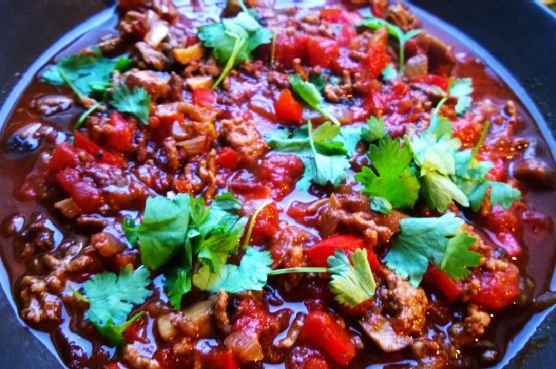 The recipe Ancho Chipotle Chili is ready in around 1 hour and 15 minutes and is definitely an excellent gluten free, dairy free, and whole 30 option for lovers of American food. This recipe makes 2 servings with 702 calories, 44g of protein, and 43g of fat each. For $4.03 per serving, this recipe covers 47% of your daily requirements of vitamins and minerals. It works well as a pretty expensive main course for The Super Bowl. If you have bell pepper, mushrooms, chipotle chile, and a few other ingredients on hand, you can make it. To use up the onion you could follow this main course with the Candy Corn Cupcakes as a dessert. Try Ancho-Chipotle Salsa with Chocolate and Fried Almonds, Ancho Chicken Sandwiches With Avocado And Chipotle Mayonnaise, and Ancho Chicken Sandwiches with Avocado and Chipotle Mayonnaise for similar recipes.
Ancho Chipotle Chili Instructions
1. Slice open the dried ancho and chipotle chili and remove the seeds/pith. Place the dried chili peppers in a warm skillet (medium heat) and press them flat with a spatula to toast them for a few seconds per side until fragrant (be careful not to burn them!). Be sure to wear gloves or wash your hands directly after handling the chili peppers.
2. Remove the dried chili and put them in a bowl or sauce pan. Pour 250 ml boiling water over it and leave it to soak for at least 15 minutes.
3. In a large pot, saute the chopped bell pepper, onion, and mushrooms over medium heat.
4. Meanwhile, fry the beef in a hot skillet until crispy.
5. While the beef is frying, blend the chili peppers you've been soaking with the soaking liquid.
6. Add the beef to the large pot filled with the sauteed vegetables.
7. Add the tomato sauce and blended chili peppers to the pot. If it is not enough liquid, add beef or vegetable broth (the other 250 ml water and 5 grams bouillon powder, unless you have "real" broth on hand) until everything is covered.
8. Season with salt, pepper, cumin, and oregano to taste.
9. Simmer for about 45 minutes or until thick enough. Serve with fresh cilantro.
Credit: coffeebean