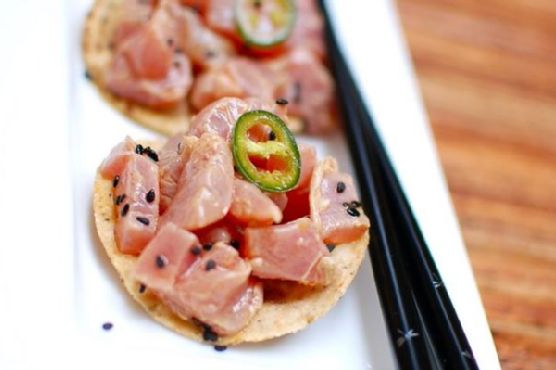 Need a gluten free, dairy free, and pescatarian main course? Ahi Tuna Ceviche could be a great recipe to try. This recipe makes 3 servings with 128 calories, 18g of protein, and 4g of fat each. For $2.44 per serving, this recipe covers 15% of your daily requirements of vitamins and minerals. Not a lot of people made this recipe, and 3 would say it hit the spot. If you have ahi tuna steak, even roasted sweet potato, juice of lime, and a few other ingredients on hand, you can make it. To use up the soy sauce you could follow this main course with the Panna Cotta with Strawberry-Vin Santo Sauce as a dessert. From preparation to the plate, this recipe takes around 45 minutes. This recipe is typical of South American cuisine. All things considered, we decided this recipe deserves a spoonacular score of 62%. This score is good. Try Margaritan Ahi Tuna Ceviche, Tropical Tuna Ceviche, and Cebiche De Atun ( Peruvian Canned Tuna Ceviche) for similar recipes.
Ahi Tuna Ceviche Instructions
In medium bowl mix soy sauce, toasted sesame oil, rice vinegar, Serrano pepper, lime juice, mint, and sesame seeds. Then add diced tuna and toss to coat.
The tuna is ready to eat as soon as it's tossed and coated but you can marinate it for a few minutes if desired. The tuna will start to turn white almost immediately, a sign that it is cooking from the acidity of the lime juice. It is not necessary to cook the tuna. In fact, it is best served immediately while it is melt-in-your-mouth tender and moist.
Serve immediately by mounding atop crackers, chips, micro-greens, or even roasted sweet potato slices.
Credit: Foodista.com – The Cooking Encyclopedia Everyone Can Edit