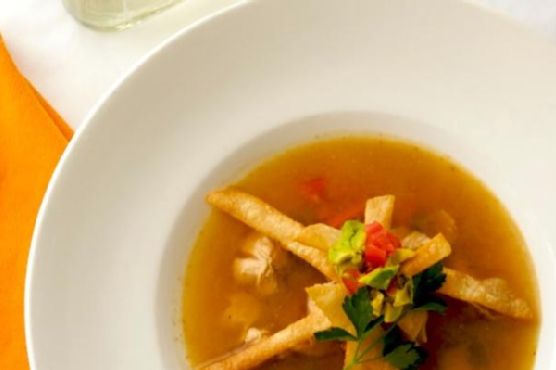 A Post Thanksgiving "sopa De Tortilla" might be just the South American recipe you are searching for. This gluten free, dairy free, and whole 30 recipe serves 5 and costs $3.08 per serving. This main course has 444 calories, 36g of protein, and 26g of fat per serving. 5 people have made this recipe and would make it again. It can be enjoyed any time, but it is especially good for Thanksgiving. If you have avocado, poblano pepper, celery, and a few other ingredients on hand, you can make it. To use up the celery you could follow this main course with the Pistachio Shortbread Cookies as a dessert. From preparation to the plate, this recipe takes roughly 2 hours and 30 minutes. All things considered, we decided this recipe deserves a spoonacular score of 82%. This score is spectacular. Try Thanksgiving Appetizers – Two s in One Post, Fire Roasted Tortilla Soup with Ancho Tortilla Strips, and Sopa de Fideo for similar recipes.
A Post Thanksgiving "sopa De Tortilla" Instructions
Stock Instructions:
Drizzle 2 tablespoons of olive oil in bottom of large stock pot.
Add quartered onion, 2 cloves of garlic and 2 stalks of celery, and turkey breast.
Peel two carrots and add the peels to the stock pot along with 2 carrots and 2 celery stalks. Reserve two carrots and 2 celery stalks for later use.
Cut the stems off your Cilantro bunch. Reserve the leaves. Add stems to the stock pot.
Add water to your pot so that it is 3/4 full.
Cover and boil for at least 1 hour, preferably 2 hours. You should set a timer to check on your stock. Do not add salt before you have reduced your stock. The stock should not reduce to less than one quarter of your pot.
Remove turkey from bone. Reserve the meat. Discard the bone
Strain the soup by using a colander over another stock pot
Discard the vegetables
Set aside the stock you will use for the soup (1 to 2 cups per guest) and pour the rest into ice cubes for later use.
Soup Instructions:
In blender add 1 8 oz. can of organic stewed tomatoes and cup of olive oil, pinch of salt and puree with roasted pepper* and set aside for later use.
Add 2 carrots cubed to stock
Add 2 celery stalks chopped to stock
Cover and boil for 30 minutes until the vegetables are tender.
Add 1/4cup increments pureed pepper-tomato mixture to your broth.
Add 1/3 cup of turkey meat per cup of stock and allow simmering.
Taste for salt and finish with a pinch of ground cumin.
Ladle soup into bowls and add extra turkey meat, top with strips of fried corn tortillas or good quality store bought tortilla chips. Top with fresh cilantro and cubes of avocado.
*Roast 1 Poblano pepper stove top or in your oven until charred and tender. Peel and devein the Poblano pepper.
Credit: Foodista.com – The Cooking Encyclopedia Everyone Can Edit